US limiting support for Saudis over bloody Yemen war – report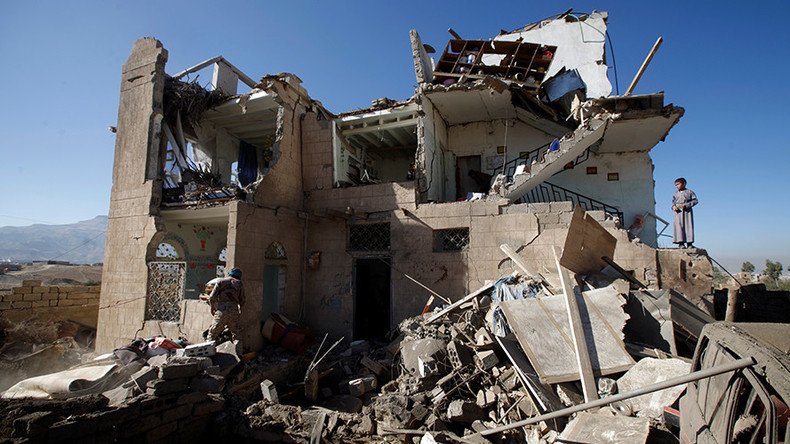 Washington is holding up sales of some weaponry to Saudi Arabia due to concerns over civilian casualties in Yemen. The US will still refuel Saudi aircraft, but pilots will be given better training to limit civilian deaths, reports say.
Guidance systems manufactured by Raytheon Co. and worth "hundreds of millions of dollars" will be put on hold due to "systemic, endemic" problems with Saudi targeting in Yemen, an Obama administration official who spoke on condition of anonymity told Reuters on Tuesday.
"We've decided not to move forward with some foreign military sales cases for air-dropped munitions, PGMs (precision-guided munitions)," the official said. "That's obviously a direct reflection of the concerns that we have about Saudi strikes that have resulted in civilian casualties."
Saudi Arabia launched a military operation against its southern neighbor in March 2015, backing the ousted President Abdrabbuh Mansur Hadi against the predominantly Shia Houthis who ousted him. Riyadh claims the Houthis are acting as proxies of Iran.
Since then, the Saudi-led coalition has been responsible for 60 percent of the 3,800 civilians killed in Yemen, according to a UN estimate cited by Reuters.
The US has assisted the Saudi war effort through sharing intelligence, deploying a naval squadron off the coast of Yemen, refueling Saudi airplanes, and even sending US Special Forces into Yemen's Hadramaut province in May this year.
Washington has also sold missiles, bombs and tanks to Saudi Arabia, partly to modernize the Gulf kingdom's ground forces and partly to offset combat losses. Last year, the Obama administration sent precision-guided munitions from the US military stockpile to resupply the Saudi coalition, Reuters reported, citing a source close to the Saudi government.
President Barack Obama ordered a review of US involvement, however, after a Saudi airstrike in October killed over 140 people at a funeral in the Yemeni capital, Sanaa. Fragments of US-made ammunition were reportedly found in the rubble.
Washington has even given the Saudis a detailed list of sites to avoid bombing, but the Saudi-led coalition hit at least one site on the list, Reuters reported.
The US already suspended the sale of cluster bombs to the Saudis in May. Last week, however, the State Department announced plans to sell CH-47F Chinook helicopters and related equipment, training and support services, amounting to $3.51 billion.
Justifying the decision, State Department officials said the weapons would help the Saudis defend their border against Houthi attacks, rather than be used for offensive operations inside Yemen.
US flying tankers will continue to refuel coalition aircraft, however.
"For now, that's not going to be touched. Again, the review could continue and people could make a different decision in the coming weeks," the official told Reuters.
You can share this story on social media: