Rearming Riyadh: US approves $1.15bn tank sale to Saudi Arabia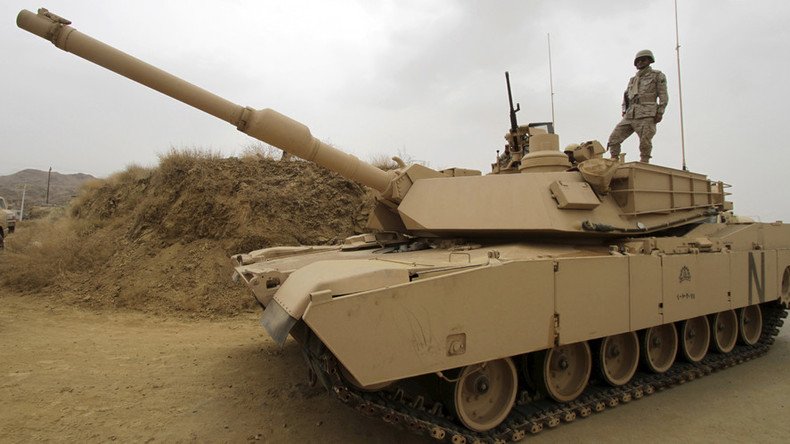 Washington has approved the sale of 133 tanks and 20 recovery vehicles to Saudi Arabia, citing the kingdom's role as a "leading contributor of political stability and economic progress" in the Middle East, even as Saudi aircraft resumed bombing Yemen.
The US State Department gave its green light for the sale, estimated at $1.15 billion, the Defense Security Cooperation Agency said in its notice to Congress on Tuesday. General Dynamics Land Systems (GDLS), of Sterling Heights, Michigan, was named as the primary contractor.
"This proposed sale will contribute to the foreign policy and national security of the United States by helping to improve the security of a strategic regional partner which has been and continues to be a leading contributor of political stability and economic progress in the Middle East."
Saudi Arabia had requested 133 M1A1/A2 "tank structures" for upgrading M1A2S Abrams tanks currently in Saudi service, as well as 20 "battle damage replacements for their existing fleet," the DSCA notice said.
The kingdom also wants 20 M88A1/A2 conversion kits for Heavy Equipment Recovery Combat Utility Lift Evacuation System (HERCULES) Armored Recovery Vehicle (ARV), used to extract battle-damaged tanks. The package would include the tanks and engineering vehicles, armaments, ammunition, training and support.
"This sale will increase the Royal Saudi Land Force's (RSLF) interoperability with US forces and conveys US commitment to Saudi Arabia's security and armed forces modernization," DSCA said in the notice.
Congress has 30 days to block the sale, although that does not happen often.
The announcement comes just days after Saudi Arabia resumed airstrikes in Yemen after a five-month truce. Saudi warplanes struck the Yemeni capital of Sanaa on Tuesday, with reports of civilian casualties. Air strikes were also reported in the northern city of Saada, the western cities of Jouf and Taiz, and the Red Sea ports of Makha and Houdeida.
A Saudi-led coalition of Gulf Arab states intervened in the Yemeni civil war in April 2015, backing the ousted President Abd Rabbuh Mansur Hadi against the Houthi insurgents. Saudi Arabia claims that the Houthis – who are Shia Muslims – are proxies of Iran, which Tehran has categorically denied.
The US, UK, France and Turkey have backed the coalition with logistics, intelligence and even "boots on the ground," ostensibly to counter the Al-Qaeda in the Arabian Peninsula (AQAP) terrorists in south-central Yemen.
While the Saudi coalition established air superiority over Yemen fairly early on, its ground forces appear to have suffered considerable casualties in the fighting, and have been unable to dislodge the Houthis from the northern and western parts of the country.
You can share this story on social media: