140 killed & 525 injured after reported Saudi-led airstrike hits funeral in Yemen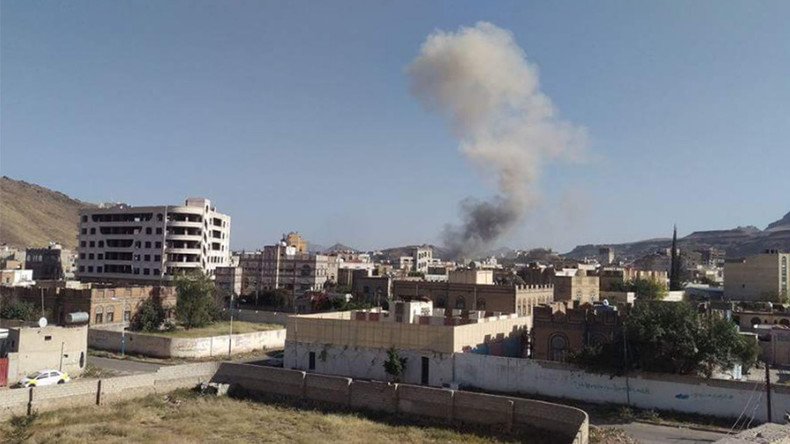 A bombardment carried out by Saudi-led coalition jets has rocked a funeral ceremony in the Yemeni capital, Sanaa, killing over 140 people and injuring hundreds more, according to the UN. Local media claim the death toll is much higher.
The Saudi-led coalition targeted a building hosting a Houthi funeral ceremony, killing a total of 140 people, United Nations said in a statement.
525 more have been wounded as a result. Yemen's deputy Health Minister, Abdul-Salam al-Madani, said that the bombardment was carried out by the Riyadh-led coalition jets, as cited by Reuters.
Meanwhile, Lebanese Al Mayadeen TV put the number of people killed at 213.
A missile tore through the hall of the building, leaving many dead and injured, Reuters reported earlier, quoting eyewitnesses.
According to the news agency, a medic said that he saw "mutilated and charred bodies," adding that the funeral was being held for the deceased father of the Houthi rebels' Interior Minister. Military and security officials from the rebel movement are among the victims, according to the outlet.
AP earlier reported that at least 45 people had been killed in the bombardment.
"The place has been turned into a lake of blood,'' a rescuer, Murad Tawfiq, was quoted by the news agency as saying.
Earlier images of a destroyed building, partly still aflame, have emerged on social media, with some people alleging the devastation was caused by a Saudi-led coalition strike.
The Riyadh-led coalition meanwhile brushed aside all accusations. In a statement, the alliance said that "no air operations have been conducted in the area of the blast," TASS reported.
Tensions in Yemen spiraled after President Ali Abdullah Saleh was deposed in 2012. In response, his Houthi supporters – reportedly aided by Iran – seized the capital city of Sanaa in 2014, before advanced to the south and seizing large parts of Yemen, forcing current Sunni President Abd-Rabbu Mansour Hadi into exile.
In March of 2015, the Saudi-led coalition began airstrikes in order to stop Houthi advances and restore Hadi to power.
By late summer of that year, Saudi-led forces had launched a ground operation as well.
One of the deadliest attacks occurred after the coalition's aircraft attacked a crowded marketplace in Mastaba, a village in Yemen's northern Hajja governorate in April. The UN children's agency, UNICEF, put the death toll from that airstrike at 119, including 22 children.
In August, at least 11 people were killed and 19 injured in an airstrike that targeted a hospital in northwestern Hajjah province, according to Doctors Without Borders (MSF).
Earlier that month, at least 10 children were killed and almost 30 injured at a school in northwest Yemen, MSF reported. That strike was also blamed on the Saudi-led coalition.
You can share this story on social media: