From iPhones to Trump, ripples of San Bernardino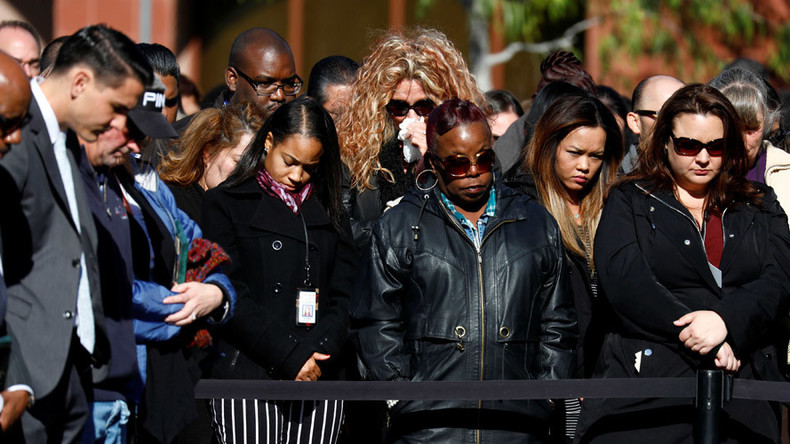 A year after a couple loyal to ISIS killed 14 and wounded 22 in a terrorist attack in San Bernardino, California, police are still looking for clues. The attack prompted a phone privacy feud between Apple and FBI and questions about Muslims in America.
Original reports spoke of two attackers opening fire with assault rifles on the holiday party at the Inland Regional Center, a local government office in San Bernardino. Several hours later, police tried to pull over a black SUV nearby and ended up in the shoot-out with the attackers. They were both killed, and identified as Syed Rizwan Farook and his wife, Tashfeen Malik.
The US-born Farook, whose parents came from Pakistan, worked as a food inspector for the county. His Pakistani-born wife came to the US in 2014 on a K-1 "fiancée visa." According to the federal investigation into the attack, the couple "self-radicalized" after reading militant Islamic literature online.
The (not so) mysterious motive
"I don't know if we can say with any certainty why the party was chosen apart from it was a soft target," San Bernardino Police Lieutenant Mike Madden told the Los Angeles Times on Thursday.
Police Chief Jarrod Burguan seemed to agree. "There are a lot of questions, and we don't have all the answers," he said. "We never established the motive. The best we can do is theorize."
One such theory is that Malik was angered by the mandatory employee training taking place in a room featuring Christmas decorations, Burguan told ABC News' Nightline this week.
"She had essentially made the statement in an online account that she didn't think that a Muslim should have to participate in a non-Muslim holiday or event," Burguan said. "That really is one of the very, very few pieces of potential evidence that we have that we can truly point to and say, 'That probably is a motive in this case'."
Further puzzling the investigators, the couple left behind a 6-month-old daughter.
"That's very hard for us to comprehend," said David Bowdich, who was the in charge of the FBI Los Angeles office at the time. He was promoted to associate deputy director of the FBI in February 2016, and transferred to the Bureau's headquarters in Washington.
Farook's iPhone pits FBI vs Apple
In the course of the investigation, the FBI sought to compel Apple to unlock Farook's iPhone, in order to access his contacts and online communications. The Bureau cited an 18th-century law in support of the court order, while Director James Comey repeatedly called for technology companies to provide ways around encryption to the government in the name of fighting crime and terrorism.
Apple resisted, arguing that giving the government a key to Farook's device would undermine the privacy of all iPhone users everywhere.
"We need to decide as a nation how much power the government should have over our data and over our privacy," Apple's CEO Tim Cook told USA Today in March 2016. "We did not expect to be in this position, at odds with our own government. But we have a responsibility to help you protect your data and protect your privacy. We owe it to our customers and we owe it to our country."
Soon thereafter, the FBI announced it received help from "an outside party" in hacking into Farook's device. Cellebrite, a mobile forensics company based in a suburb of Tel Aviv, was working with the Bureau, Israeli media reported.
On March 28, the Department of Justice dropped all legal proceedings against Apple, telling the courts that "The government has now successfully accessed the data stored on Farook's iPhone and therefore no longer requires the assistance from Apple Inc."
Anti-Muslim backlash
Muslims across America reported a series of incidents in the aftermath of the attack, ranging from shouted insults to physical assaults. There has not been much of a backlash in San Bernardino itself, however, according to local media.
The city's Muslim community set up an aid fund for the victims of the attack and their families, which may have helped dispel negative stereotypes, neurologist Faisal Qazi told KPCC radio.
"Most of the reaction was very positive, and we had support from all sides of the political spectrum," Qazi said.
Donald Trump, campaigning at the time for the Republican presidential nomination, called for a "total and complete shutdown of Muslims entering the United States," and pointed to Malik as a case of US immigration authorities failing at their job.
READ MORE: In response to Orlando attack, Trump renews call for immigration ban

The statement was met with a torrent of criticism from all quarters, including many Republicans. Trump went on to win the party's nomination and repeated the call after the June 2016 terrorist attack in Orlando, Florida. He was elected president in November, decisively defeating Democratic Party candidate Hillary Clinton in the Electoral College.
You can share this story on social media: