2 suspects dead in San Bernardino mass shooting, both identified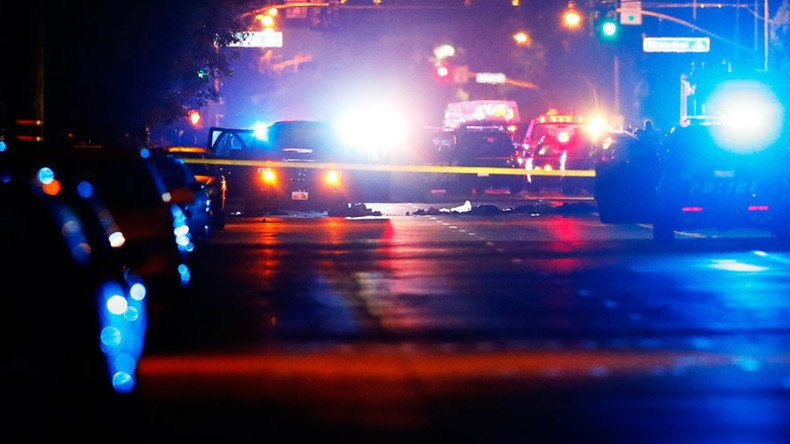 San Bernardino, California police have confirmed that two suspects – a man and woman – died during a gun battle with police officers following a shooting at the Inland Regional Center that left 14 people dead and 17 wounded.
LIVE UPDATES: San Bernardino shooting
The FBI is investigating the situation but have said they don't know for sure if it is related to terrorism.
San Bernardino Police Chief Jarrod Burguan said the two deceased suspects were "dressed in assault-style clothing, armed with assault rifles and hand guns."
"We don't have a motive. We don't know ethnicity," he added.
The shoot-out occurred after investigators went to an apartment in nearby Redlands where a vehicle was seen leaving, Burguan said. Officers pursued the vehicle and engaged in a shoot-out with the suspects, leading to the death of one male and one female. An officer was injured, but his injuries were not life-threatening, the police chief said.
A third person was seen leaving the area and was taken into custody. Burguan said it is not clear if he was directly involved in the attack and he has not been identified.
Police have since identified the two suspects ‒ now thought to be the only ones ‒ as Syed Rizwan Farook, 28 and Tashfeen Malik, 27, they announced at a press conference.
A person named Syed R. Farook was employed by the San Bernardino County Health Department as an environmental health specialist, but "it was not clear if that was the same person involved in the shooting," the Los Angeles Times reported, citing public records.
A senior federal official told the LA Times that investigators believe one of the shooters left the party at the Inland Regional Center after getting into an argument and returned with one or two armed companions.
Several news outlets reported that an exchange was overheard on a law enforcement radio channel, with one official telling a dispatcher Farook "was at the meeting," and then left "out of the blue."
Farook "was acting nervous" and left the building approximately 20 minutes before gunfire erupted, according to the recorded transmission.
The Daily Beast reported that police executed a search warrant at a Redlands address belonging to Farook's family.
Meanwhile, a man identified as Farook's father said his son worked as a health technician inspecting restaurants and hotels.
"He worked in a county office," Farook's dad told the New York Daily News. "He's married and has a kid."
Farook's father said he hadn't seen his son in some time as they are estranged.
"He was very religious. He would go to work, come back, go to pray, come back. He's Muslim," the father said.
Police are still securing the Inland Regional Center because they have been delayed by a suspicious device believed to be an explosive, Burguan said. He added that some suspicious items found in and around the vehicle involved in the shoot-out are also being investigated.
The violent incident occurred on Wednesday morning when shooters carrying long guns and wearing masks opened fire at around 11 a.m. local time in a large conference room where San Bernardino County health department employees were gathered, according to witnesses and officials.
A black sports utility vehicle was seen fleeing from the office complex where the shooting occurred.
When asked what might have led to the shooting, Burguan said there had been some kind of dispute at the meeting, and that someone had left, but they don't know if that person had been involved in the shooting.
"This is a very fluid active situation. We are still gathering facts," David Bowdich, the FBI's assistant director in Los Angeles, said.
He added that they were bringing in FBI resources and evidence teams and will enter the apartment cautiously, as they don't know its contents or what devices might be left behind.
"This is a marathon not a sprint. Is this terrorism we don't know that for sure. It is a possibility. We are not willing to go down that road yet," Bowdich said.
You can share this story on social media: