San Bernardino shooting: Search for suspects underway, 14 killed, 17 injured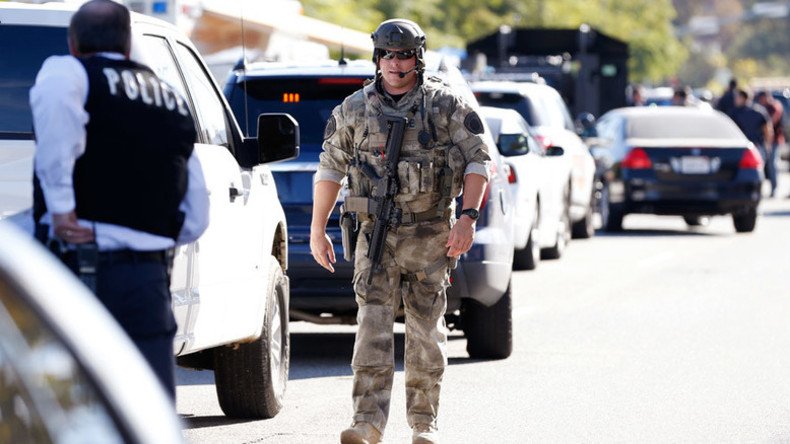 At least 14 people have been killed and 17 more wounded in San Bernardino, California where up to 3 attackers went on a shooting spree at a regional center that aids people with disabilities. Police are still extracting people from the location.
UPDATE: 2 suspects confirmed dead, 1 reportedly identified in San Bernardino mass shooting
Police are not treating the incident as a terrorist attack so far.
"We are here to essentially assure that all the injured are extracted. Safety is the number one goal at this point," David Bowdich, the assistant director of the FBI's LA Field Office, said. "We do not know if this is a terrorist incident. So we start from the beginning… it may be, it may not be."
LIVE UPDATES: San Bernardino shooting
Burguan later contradicted Bowdich's assessment, however: "At the minimum, we have a domestic terrorist-type situation here," the police chief said, noting that the three suspects "came in with a purpose, they came in to do something."
San Bernardino police were looking for a dark SUV which the suspects used after the shooting. Officers were conducting follow-up work when whey came across an SUV and exchanged gunfire with the suspects inside, said Sergeant Vicki Cervantes, a spokeswoman for the San Bernardino Police Department.
Two suspects are "being dealt with," she added, but officers are still unsure if this incident is in connection to the earlier shooting.
It is unclear if the suspects were still in the building by the time San Bernardino police arrived at the scene, followed shortly by "a massive mutual aid response from nearly every jurisdiction in the region," the chief said.
"Our police officers have not engaged or exchanged gunfire with anyone," Burguan added.
They may also be wearing body armor, Cervantes told reporters.
The attackers also had long guns.
"It's a very active scene," Cervantes said. "It's very fluid."
Live feed from the location showed many injured people being helped by emergency services.
At least 14 people were wounded and are being treated in hospitals. Their conditions vary.
Along with San Bernardino police officers, the California Highway Patrol, FBI and agents from the Bureau of Alcohol, Tobacco and Firearms are on the scene.
Witnesses told police that the shooters were wearing ski masks, KABC reported.
People who have evacuated the building were transported away from the scene in school buses, police said on the scanner.
"We have a pattern now of mass shootings in this country that has no parallel anywhere else in the world," Obama said in response to the shooting.
Police have found multiple "devices" in the building, according to scanner traffic.
Injured victims are being brought to Loma Linda University Medical Center. The emergency room there is in disaster mode and expecting an influx of patients, the hospital told KABC.
Arrowhead Regional Medical Center is also expecting to receive patients, KCBS reported.
Law enforcement agents are working to evacuate people from the Inland Regional Center, Doug Saunders tweeted.
There are 12 fatalities so far, sources told KABC.
Relatives of the people who are in the area have been arriving to the scene.
"Someone had come in and started shooting, and they ran into the office and she's hiding with some other people. Our daughter is in there and she's hiding.She sent texts, " said one of the witnesses to CNN.
"She said, 'shooting at my work, people shot, in the office waiting for cops. Pray for us. I am locked in an office.'"
20 ambulances have left shooting scene so far, with local hospitals expecting unknown number of patients.
Injured victims are being brought to Loma Linda University Medical Center. The emergency room there is in disaster mode and expecting an influx of patients, the hospital told KABC.
Loma Linda has received four adult patients and is expecting three more, the hospital confirmed to KNBC.
The San Bernardino PD's SWAT team was training nearby when the call came in of multiple shots fired just before 11 a.m. local time, Lieutenant Richard Lawhead told KTLA. They were already suited up and "ready to roll," allowing for a rapid response time.
"Alarms went off in the building and they were told to shelter in place. Eventually they came over the PA system and told them that they were supposed to evacuate and go to a different area, and come out with nothing in their hands, with their hands up. Now they're being loaded up into buses to be taken somewhere else, it appears to be interviews," the father of a worker who was in the building told KABC.
"I heard 25 to 30 automatic rounds, then there were three people coming into our building looking for shelter," a teacher at a school for the blind at the Inland Regional Center told MSNBC. "Everyone here is safe at the school for the blind."
Inland Regional Center is a nonprofit organization that works with individuals with developmental disabilities. It has nearly 670 staff members who provide services to more than 30,200 people with disabilities and their families in San Bernardino and Riverside Counties, its Facebook page said.
Planned Parenthood in San Bernardino, located near the site, was not targeted in the attack, its officials have confirmed to CNBC and the Huffington Post.
Last Friday a shooter killed three and injured nine people at Planned Parenthood clinic in Colorado Springs.
"We're not allowing anyone on the golf course. We got a big helicopter sitting in the middle of the Number 1 fairway," golf club employee Tom Brown told the Los Angeles Times. "We're several hundred yards away from the area. We can see fire and SWAT from here, but we're not allowed to go any farther."
The Federal Aviation Administration has set up a temporary no-fly zone around the shooting area, and news helicopters have been ordered away as SWAT teams work to clear Inland, which has three buildings in its facility.
The Los Angeles Emergency Operations Center has been activated to Level 1 and is monitoring the situation in San Bernardino, the city of LA's Emergency Management Department.
DETAILS TO FOLLOW
You can share this story on social media: