San Bernardino shooting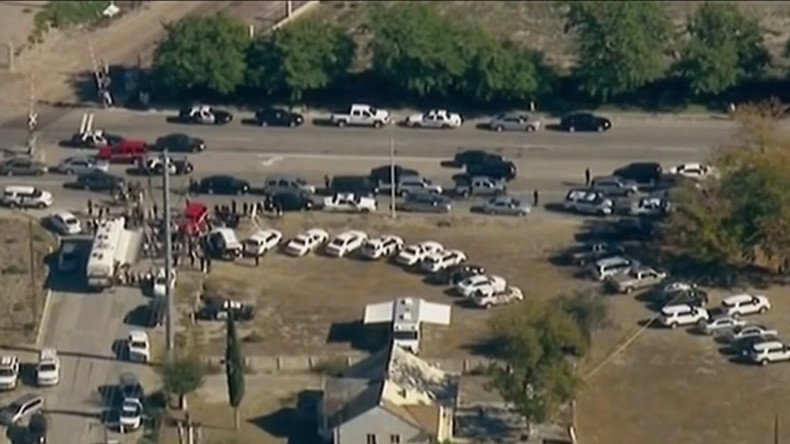 Fourteen people have been killed and 21 injured at a San Bernardino, California facility for people with disabilities, law enforcement said. Police confirmed that two suspects have been killed.
08 December 2015

00:22 GMT

A deposit of $28,500 was made into the bank account of Syed Farook roughly two weeks before he and his wife carried out their violent assault in San Bernardino, according to Fox News. The deposit was made by WebBank.com, the news outlet stated, citing an unnamed source with knowledge of the investigation.

Close to November 20, Farook reportedly withdrew $10,000 in cash at a Union Bank in San Bernardino, Fox reported. Another three transfers of $5,000 were apparently made to Farook's mother in the days leading up to the shooting.

Law enforcement has yet to confirm or comment on the allegations, but Fox's source said the activity would appear to back up the claim that the shooting carried out by Farook and his wife, Tashfeen Malik, was premeditated.

07 December 2015

20:29 GMT

The FBI believes that both Farook and Malik were radicalized "for quite some time," but investigators do not know when, where or how they became extremists, Assistant Director David Bowdich told reporters on Monday morning. He would not give any details about how long they had been radicalized, and said they may never find evidence that another person led them to become extremists.

The federal law enforcement agency is investigating whether anyone else was involved in pre-planning, profited from or financed the attack.

Bowdich also announced that the number of pipe bomb components found in the couple's home had risen from 12 to 19. So far they have found 323 pieces of evidence, most of which as been transported to FBI labs in Washington, DC.

16:18 GMT

Doctors from Arrowhead Regional Medical Center heard rumors there may have been as many 100 victims, and they prepared for those numbers with 40 to 50 doctors with trauma teams ready to go.

Dr. Michael Neeki, who is trained in tactical medicine and is a part of the SWAT team, headed to the Inland Regional Center in his own car with two residents. He helped clear the second floor of the IRC building.

15:56 GMT

All victims of the December 2 terrorist attack remaining in the two main hospitals are stable, and many have returned home, Dr. Dev GnanaDev from Arrowhead Regional Medical Center told reporters.

15:50 GMT

"Our hearts are heavy during this time, but yet we must move forward," James Ramos, chairman of the San Bernardino County Board of Supervisors, said at a Monday morning press conference. "Today we are opening San Bernardino County up for business."

Returning county employees will notice increased security at all facilities, trained counselors will be provided and all managers have been asked to look for signs of distress in their employees, other supervisors said.

"No act of terrorism anywhere... will provide any kind of an end to the hard work, to the dedication of every single San Bernardino County employee. All of us in San Bernardino County are one family," Supervisor Josie Gonzales said. "We stand together and united. We know our county employees are valuable and we have a mission to come together as a strong community and to supercede any act of terrorism."

14:52 GMT

Having obtained a photo of Tashfeen Malik, ABC News also published a photo of Malik and her husband, Syed Farook, passing through US immigration at Chicago O'Hare International Airport upon arrival from Saudi Arabia in July 2014.

06 December 2015

00:26 GMT

FBI agents conducted a raid on a house in Riverside, California near the location of the shooting, FBI spokeswoman Laura Eimiller said.

Eimiller declined to specify the address of the premises that was searched or its connection to the case. However, neighbors told Reuters that police searched a house that was once occupied by Syed Farook, who with his wife Tashfeen Malik killed 14 people in the San Bernardino attack.

05 December 2015

09:55 GMT

Islamic State terrorists have released a statement via online radio, alleging that the San Bernardino attacks were carried out by two of its followers, according to Reuters.

A news agency aligned with the terrorist group on Friday alleged the attackers were followers of the terrorist group. The US government, however, says there is still no evidence to support a connection, or that would prove the terrorists even knew who the attackers were.

08:23 GMT

The suspicious package turned out to be perfectly safe, bomb disposal teams have determined. The Police Chief tweeted the news.

Item was safe, posed no threat.

— Chief Jarrod Burguan (@SBPDChief) December 5, 2015

05:17 GMT

The package addressed to the suspected shooters is apparently from Sears, according to an ABC 7 reporter.