Trump invites Duterte to US during 'animated' talk, makes other diplomatic missteps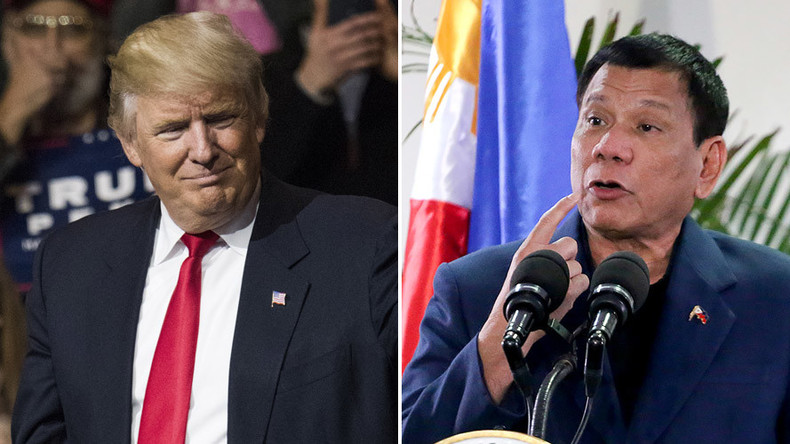 President-elect Donald Trump invited controversial Philippines leader Rodrigo Duterte to the White House next year during a "very engaging, animated talk," an aide for Duterte revealed. It's not the first time Trump has clashed with existing US foreign policy.
Duterte's special advisor Christopher Go announced the seven-minute conversation to media via text message on Friday, Reuters reported.
It is hoped that Duterte's approval of Trump will help mend the relationship between the Philippines and US, which has become strained in recent months over what Duterte calls Washington's "hypocrisy."
READ MORE: 'Western court threats are bullsh*t, European lawyers stupid': Duterte on possible indictment
During one of Duterte's many anti-American tirades, he called outgoing US President Barack Obama "a son of a whore" because of his perceived disapproval of the leader's approach to Manila's "war on drugs."
Duterte's reaction to Trump's victory, however, has been significantly warmer, as he expressed confidence that his "friend" and "ally" will respect all bilateral agreements between the countries.
Trump's call to Duterte is the latest in a series of unfiltered conversations with foreign leaders that has "unnerved" American and international diplomats, according to the New York Times.
READ MORE: New Zealand FM finds Philippines' Duterte 'warm & charming' in private meeting
Shunning protocol from the beginning, Trump's first meeting with a foreign official as president-elect went to controversial UK leader Nigel Farage, before eventually calling British Prime Minister Theresa May – after speaking with nine other foreign leaders.
Since then, he has had unconventional one-on-one conversations with Japanese PM Shinzo Abe, the president of Kazakhstan and a "reckless and bizarre" complimentary phone call with Pakistan's leader, Nawaz Sharif.
During the call, Trump said he hoped to visit Pakistan, a country Obama has avoided for the last eight years due to the countries' "quite complicated" relationship. Trump's sentiment was lambasted by the people of India as "ignorant," the Independent reported.