New Zealand FM finds Philippines' Duterte 'warm & charming' in private meeting
New Zealand's foreign minister has described Philippines President Rodrigo Duterte as "warm" and "charming" after a meeting. Duterte has been labeled "The Punisher" for his ruthless crackdown on drug crime, which has seen more than 2,400 people killed.
Read more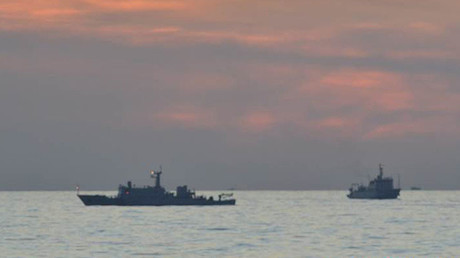 Duterte, 71, arrived in Auckland on Tuesday to rest before returning to the Philippines, after the Asia-Pacific Economic Cooperation (APEC) summit in Peru.
During his overnight stay, New Zealand's Foreign Minister Murray McCully met informally with the Philippines leader to discuss several issues including the South China Sea dispute between Manila and Beijing.
"We talked about everything," McCully said. "I don't want to talk publicly about what was a private discussion but we discussed the full range of issues."
McCully told the New Zealand Herald after the meeting that Duterte came across as "a tough guy," who at the same time was "warm, courteous and actually quite charming."
"He's a very engaging character and it's not difficult to discuss sensitive issues with him. He is very happy to engage on those issues," McCully noted.
"He doesn't beat around the bush. He has got quite firm views and he expresses them, and very colorfully," the FM added.
Duterte took office on June 30 on an anti-American and a harsh anti-drug platform. He promised to kill more than 100,000 drug offenders and fill Manila Bay with their bodies.
Read more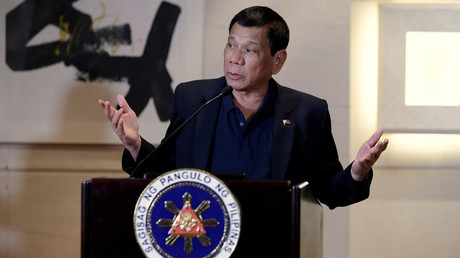 Since this summer, police statistics show a surge in the number of drug crime suspects shot dead by security forces. In addition, self-proclaimed vigilantes appear to be on the lose, hunting down drug dealers.
It is estimated that more than 2,400 and up to 4,700 people have been killed since July. For his anti-drug campaign, he has been dubbed "The Punisher" by Time magazine.
The Philippines leader also severed his relations with Washington. Duterte previously called Barack Obama "son of a b**ch." During a state visit to China last month, he told the American president to "go to hell" as he announced "separation" from US foreign policy.
His step away from Washington has been accompanied by comparatively friendly approaches towards China and Russia. Duterte earlier said he would buy weapons from Russia and China to decrease reliance on America in defense matters.