Deadly Tennessee wildfire caught from the air & ground in shocking footage (VIDEO)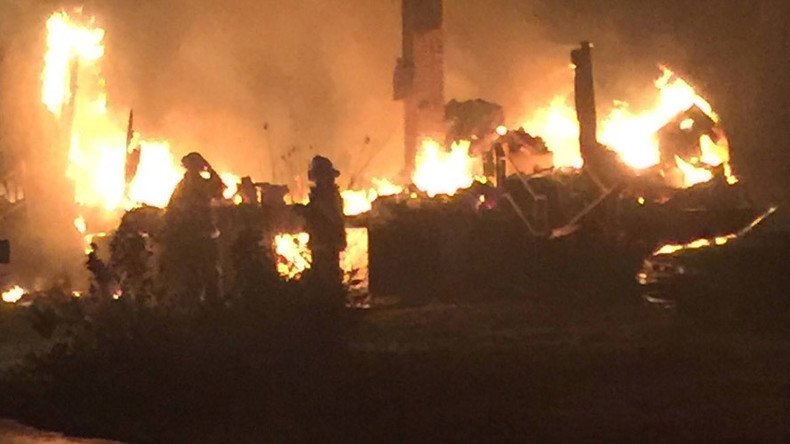 As enormous wildfires continue to rage across the southeast United States, alarming footage of the latest eruption in Gatlinburg, Tennessee, was caught from both the ground and air.
Ten people have died from the fires that moved eastward from the Great Smoky Mountains National Park towards homes in eastern Tennessee, WBIR reported Thursday. That is up from a previous death toll of seven. More than 50 people were injured, and over 700 buildings were burned beyond repair in Sevier County.
Thousands of people were ordered to evacuate Gatlinburg, Tennessee, on Monday night after a wildfire erupted on Chimney Tops mountain and spread into the nearby towns – resulting in the death of seven people.
READ MORE: 7 dead in Tennessee wildfires, Dolly Parton assists aid efforts
Local man Michael Luciano recorded his heart-stopping, close escape from the flames as he abandoned his home and made his way to safety.
While the fire officially remains active, footage of the after-effects, captured by Tennessee National Guardsman Michael Donovan on Tuesday, showed some of the devastating damage the blaze has left in its wake.
NASA's Aqua satellite captured an incredible before-and-after image of the Gatlinburg fire from above that showcased just how far smoke can spread to surrounding forests and ignite flames of its own.
READ MORE: Spread of southeast wildfires captured from space (PHOTOS)
A severe drought across the southeastern states of Tennessee, Georgia and the Carolinas have resulted in at least 44 wildfires since the beginning of November, and have burned an estimated 190 square miles (306 square kilometers) of land so far.
You can share this story on social media: