10 dead in Tennessee wildfires, Dolly Parton assists aid efforts
Published time: 1 Dec, 2016 18:50
Edited time: 2 Dec, 2016 12:24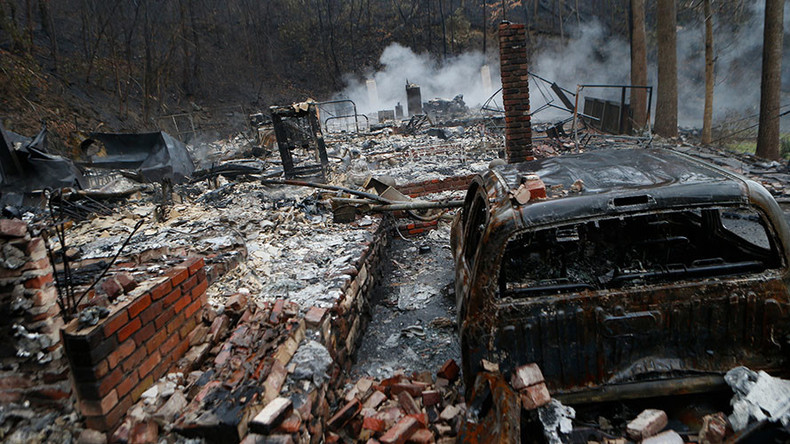 The death toll from wildfires that ravaged the eastern Tennessee communities of Gatlinburg and Pigeon Forge has risen to 10. Country music star Dolly Parton is leading an effort to help the area ‒ her birthplace and home of her Dollywood resort.
The blaze, which began in Great Smoky Mountains National Park and spread rapidly into Gatlinburg on Monday, burned 15,000 acres and damaged or destroyed more than 700 buildings – about 300 in Gatlinburg alone – according to Sevier County Mayor Larry Waters.
Initially, four people were believed to have perished in the flames, until the authorities discovered three more bodies at a burned-out residence on Wednesday. Then on Thursday, three more deaths were counted, bringing the total to 10, WBIR reported.
"All of us are praying for those families and are very distressed at the loss of life in this situation," Waters said. He added that 53 people were injured, and many of them have already been released from the hospital.
"This is a fire for the history books," Gatlinburg Fire Chief Greg Miller said Tuesday, according to the Washington Post. Locals who fled the blaze described it as hellish.
"Walking through hell, that's what it was... I never want to see something like that again in my life, ever," Linda Monholland, who worked at the Park View Inn, told the Post.
Brandon Reese, a freelance photographer from Virginia who came along with the volunteer fire crew in Pigeon Forge to document the blaze, described the scene as "apocalyptic wasteland," according to The Tennessean.
The Mystery Mansion was destroyed and the famous Cupid's Chapel caught fire, while the Gatlinburg Convention Center was barricaded shut. Even the dirt was alit, Reese said.
Outside one home in Sevier County, a statue of Jesus was the only thing standing after the fire swept through, according to a WVLT television crew. Isaac McCord, an employee at Parton's Dollywood theme park, posted a picture on Facebook of a half-burned scorched page from a King James Bible he found during the cleanup.
"To you, LORD, I call, for fire has devoured the pastures in the wilderness and flames have burned up all the trees of the field," reads one of the passages on the page, from the Book of Joel.
Around 14,000 people were evacuated from the area residences and resorts. Helped by Tuesday's rain, the fire crews were able to stop the blaze before it could damage Dollywood.
Parton, who was born in Sevier County, announced on Wednesday that she will be setting up a fund to aid the community. The My People Fund will provide $1,000 per month to families whose houses were destroyed by the blaze.
"We want to provide a hand up to those families who have lost everything in the fires. I know it has been a trying time for my people and this assistance will help get them back on their feet," Parton said on Wednesday.