Huge fire forces evacuations at Gatlinburg, Tennessee, arson suspected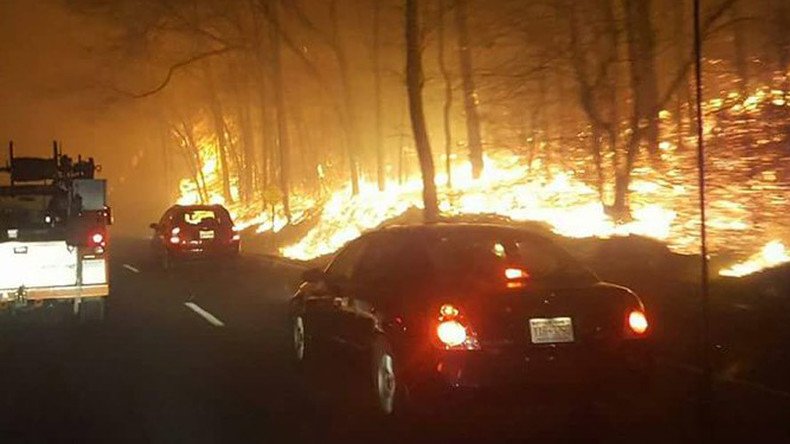 A roaring 500-acre fire is threatening structures in downtown Gatlinburg, Tennessee, where officials have ordered mandatory evacuations. Roads near Great Smoky Mountains National Park are closed, as firefighters battle the flames and gusty winds.
There have been no fatalities so far, but three burn victims are in critical condition at Vanderbilt University Medical Center in Nashville, the Tennessean reported.
More than 100 structures have been destroyed by the massive fire, including the home of Gatlinburg Mayor Mike Werner.
"It's very dangerous weather conditions," Dana Soehn with the National Park Service told WATE. "We've had trees coming down, limbs coming down and the fire is continuing to grow."
Residents have been evacuated to a Red Cross shelter at the Gatlinburg Community Center, while Rocky Top Sports World has also been converted into a shelter.
Officials suspect arson in the fire, which started over the weekend.
Blazes were too close for comfort for people staying at the Park Vista Hilton hotel. They shared harrowing images on Twitter.
Embers are being picked up by wind gusts, further spreading the fire. Rain is expected late Monday evening.
"Nobody is allowed into the city at this time," the National Weather Service Morristown Tennessee tweeted at 9:25pm ET. "Evacuate immediately and follow any instructions from emergency officials."
Eye-witnesses driving near the massive fire also posted video footage.
The fire is reportedly reaching Dollywood, the theme park partly owned by country music singer Dolly Parton. Dollywood is an estimated 15-mile drive from Gatlinburg.
You can share this story on social media: