Spread of southeast wildfires captured from space (PHOTOS)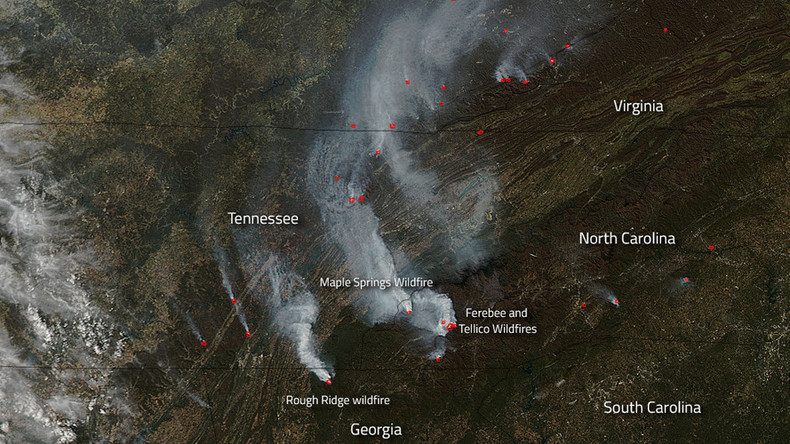 Satellite cameras have captured just how far wildfires have spread across the southeast of the United States over the past week.
Extensive fires stretch across the adjoining borders of Tennessee, Georgia, North Carolina and Virginia, as shown by NASA's Aqua satellite.
The space agency instrument pinpointed more than 30 wildfires that have ignited since the Maple Springs Fire started on November 4.
The largest of the fires, Maple Springs, has grown to 3,919 acres (15.86sq km) since it started on Friday. The cause of the fire has yet to be determined. Since then, eight other significant fires have spread across the region, covering more than 20,000 acres.
READ MORE: Oregon bills two pensioners $37mn for lawnmower-sparked wildfire
Tellico, the second of the biggest blazes, and one that was caused by human activity, encopasses 5,160 acres and is expected to spread in all directions.
Extreme drought conditions continue to keep the Rough Ridge wildfire burning after it was struck by lightning on October 16. It has already reached over 7,200 acres.
Evacuation orders were issued for five North Carolina mountain counties Wednesday. Firefighters continue to battle the blaze from above as winds of 30mph (48kph) fan the growing flames, reports CBS.