Oregon bills two pensioners $37mn for lawnmower-sparked wildfire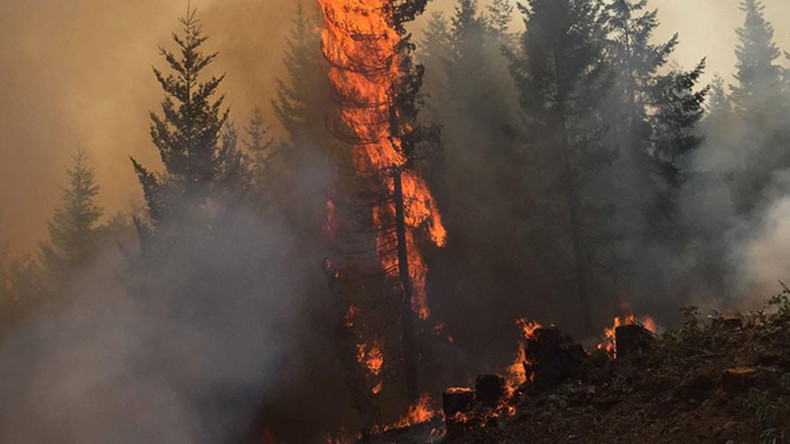 Two pensioners may be on the hook for $37 million, which is what it cost the state of Oregon to put out a 25,000-acre wildfire.
Dominic Decarlo, 70, and Cloyd Deardorff, 64, are being held liable in the July 2015 Stouts Creek wildfire, which devastated woodlands in Douglas County for a month.
Fire officials have pinpointed the two men's lawnmowers as the point of origin for the wildfire. At the time, mowing between 10 a.m. and 8 p.m. was prohibited because of fire restrictions. The Stouts Creek fire started in the afternoon, according to the incident report.
READ MORE: Uncontained wildfires threaten tens of thousands of California homes (PHOTOS, VIDEOS)

Decarlo and Deardorff have already paid $110 and $440 in fines, respectively. However, Oregon also holds individuals financially responsible for the cost of firefighting services – which, in this instance, amounts to a whopping $37 million.
The amount covers the cost of employing, and even feeding, firefighting crews for a month, the helicopters that were needed to distribute water and bulldozers that were needed for the clean-up, The Oregonian said.
The final tally will be even higher as costs are still being calculated, but Decarlo and Deardorff can expect a "demand letter" and invoice before the end of the year:
"We could get finalization in the next several weeks or a few more months," Jeff Bonebrake, the fire investigation and cost recovery coordinator for the state department of forestry, told the newspaper.
"People always have option to challenge the cost or question their responsibility [in the incident]," he added.
However, even Bonebrake admitted that "you can't squeeze blood out of a turnip." The bill is expected to end up in the hands of an insurance agency or an attorney, who could then attempt to settle with the state.
Last year wildfires in Washington reached an all-time high due to severe drought that saw about one-fifth of the state's rivers and streams decrease to record-low levels.
READ MORE: Out-of-control Alberta wildfire threatens oilsands plants
In fact, all states along the Pacific coast experienced large wildfires that devastated forestry and drained emergency resources. Alaska alone suffered 399 fires that burned around 1.6 million acres last June.
This year, California has been ravaged by continuous wildfires throughout the summer, with the worst yet to come as the dry Santa Ana arrive in September.