Out-of-control Alberta wildfire threatens oilsands plants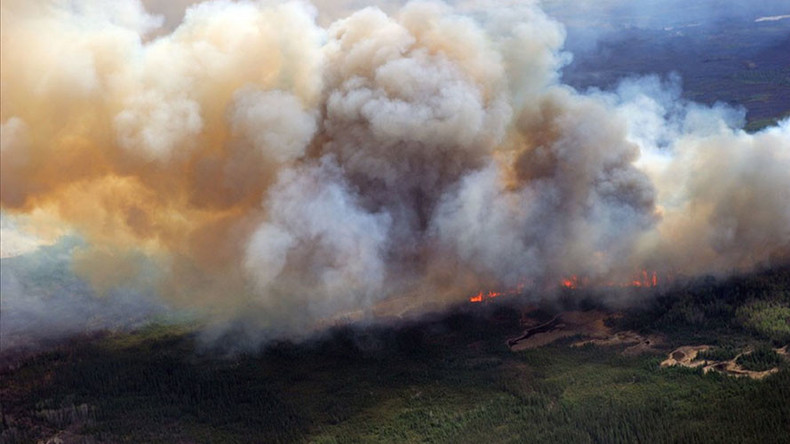 A massive wildfire in Alberta is moving east from the devastated city of Fort McMurray towards major oilsands plants, destroying a work camp north of municipality earlier on Tuesday, according to officials.
The oilsands facilities, owned by Suncor and Syncrude, are used for processing bitumen. Both have separate teams of firefighters on site and have been surrounded by gravel to keep the fire out.
READ MORE: Before & After: Satellite images show wildfire devastation wreaked on Fort McMurray (PHOTOS)

The blaze has been gaining strength, claiming 70,000 more hectares overnight, which brings the total to 355,000 hectares.
"We expect the [fire] to move east towards Suncor's facility, Northlands sawmill and potentially towards northern portions of Fort McMurray," said Chad Morrison, senior wildfire manager. "But we're still optimistic that firefighters will continue to hold those northern neighborhoods."
The official hopes that the blaze will not touch the plants, which had previously been left undamaged by nearby fires.
Suncor issued a news release stating it had "started a staged and orderly shutdown of our base plant operations," adding that personnel were being moved to work camps further north. "Suncor has enhanced fire mitigation and protection around all of its facilities," according to the statement. "When it is safe to do so, we will continue implementing our restart plans."
The fire's eastern edge was expected to reach Saskatchewan as soon as the end of Tuesday, Morrison warned.
Alberta's premier, Rachel Notley, voiced similar concerns at a news conference: "Mother Nature continues to be our foe in this regard and not our friend."
The fire destroyed a 655-unit work camp north of Fort McMurray on Tuesday morning, while two other camps still remain at risk.
Meanwhile, hard-hit Fort McMurray reported explosions overnight. One blast hit a fourplex and damaged three other units nearby, while another explosion hit one home and led to seven neighboring houses being destroyed as well. Both blasts were extinguished and are being investigated.
The over 80,000 residents that have been evacuated from Fort McMurray are entering their third week away from home after being forced out due to the raging wildfire on May 3.
The blaze has torched about 2,400 structures since then, but spared the hospital, water treatment plant, and the airport.
Meanwhile, economists have been estimating the economic damage of the wildfire, with the latest report projecting losses of around C$763 million ($590 million) in oil sands production so far, according to IHS Energy.