Trump taps Tom Price as secretary of Dept of Health and Human Services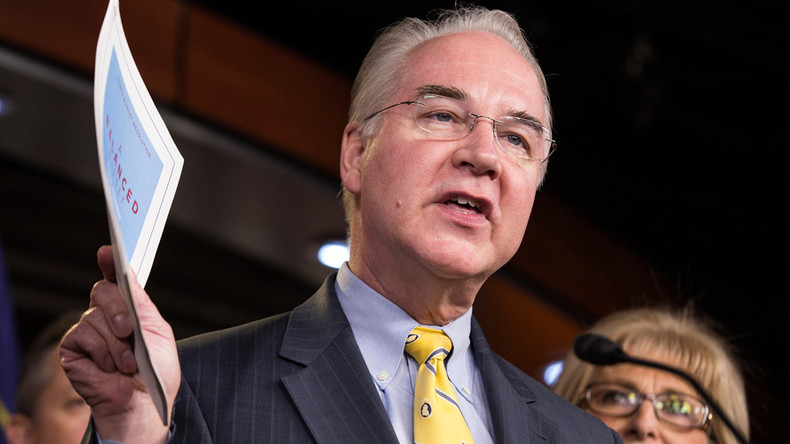 President-elect Donald Trump has picked Republican Congressman Tom Price of Georgia to be the Secretary of Health and Human Services.
"He is exceptionally qualified to shepherd our commitment to repeal and replace Obamacare and bring affordable and accessible healthcare to every American. I am proud to nominate him as Secretary of Health and Human Services," President-elect Trump wrote in a Facebook post.
If confirmed, Price would replace the current secretary, Sylvia Burwell, who was confirmed in June 2014. The secretary of HHS is 12th in the presidential line of succession, and is tasked with overseeing the provisions of the Affordable Care Act, better known as Obamacare.
An orthopedic surgeon, Price, 62, serves as chairman of the House Budget Committee and has been central to efforts to repeal Obamacare.
Price, a six-term congressman, was one of the few House Republicans to offer a replacement of Obamacare, though his legislation never received a floor vote. In it, Price sought reform of malpractice cases, making them heard before newly created state administrative tribunals instead of jury trials. Price's Obamacare replacement would have placed more power in the states, allowing them to offer quality ratings and prices for hospitals, doctors and other health providers through an official database.
Price has supported health savings accounts, tax credits for purchases of individual or family health insurance plans, permitting insurers to sell insurance across state borders, and creating high-risk pools to bring insurance costs down on those likely to take more in services. Price has opposed federal assistance for abortions.
"I am humbled by the incredible challenges that lay ahead and enthusiastic for the opportunity to be a part of solving them on behalf of the American people," Price said Tuesday morning. "There is much work to be done to ensure we have a healthcare system that works for patients, families, and doctors; that leads the world in the cure and prevention of illness; and that is based on sensible rules to protect the well-being of the country while embracing its innovative spirit."
Trump has stated that he favors some aspects of Obamacare, including requiring insurance companies to cover patients who have pre-conditions. Under Price's plan, such individuals would be protected in high-risk pools, as long as they held steady coverage over three years.
"What hypocrisy!" Senator Bernie Sanders (I-Vermont) said about the presidential selection Tuesday. "Donald Trump asked workers and seniors to vote for him because he was the only Republican candidate who would not cut Social Security, Medicare and Medicaid."
"Mr. Trump needs to tell the American people that what he said during the campaign were just lies, or else appoint an HHS secretary who will protect these programs and do what Trump said he would do," Sanders added.
Indiana US Senator Joe Donnelly (D) vowed to block Price's appointment Tuesday, citing the Trump pick's support for "overhauling and privatizing Medicare."
Senator Debbie Stabenow (D-Michigan) has also released a statement in opposition to Price, saying he supports "gutting women's health services" among other concerns.
Trump simultaneously announced his nomination for the next Administrator of the Centers for Medicare and Medicaid Services, naming Seema Verma. Verma, the CEO, founder and president of SVC, Inc., a healthcare consultancy firm, was instrumental in forming a statewide Medicaid program known as the Healthy Indiana Plan, or HIP, signed into law by Indiana Governor Mitch Daniels (R) in 2007. She also served as the state's health reform lead in response to the 2010 passage of Obamacare, Trump's Facebook post noted.
The Department of Health and Human Services (HHS) was created as the Department of Health, Education, and Welfare in 1953 "to enhance and protect the health and well-being of all Americans… by providing for effective health and human services and fostering advances in medicine, public health, and social services." It was renamed as HHS in 1980 after the Department of Education was spun off.
Agencies under its purview include the Centers for Disease Control and Prevention (CDC), Centers for Medicare & Medicaid Services (CMS), Food and Drug Administration (FDA) and National Institutes of Health (NIH). Notable former secretaries include Caspar Weinberger (1973-1975), Donna Shalala (1993-2001) and Kathleen Sebelius (2009-2014).
You can share this story on social media: