Army Corps won't 'forcibly remove' DAPL protesters, arrests still possible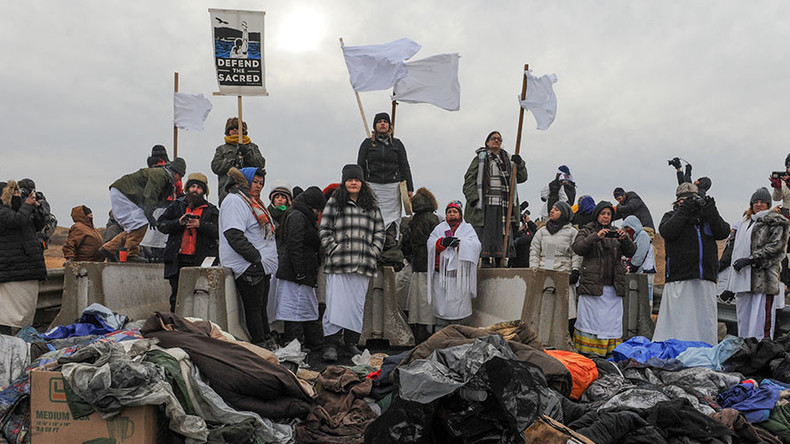 The US Army Corps of Engineers will not forcibly remove Standing Rock activists from a disputed protest camp in North Dakota, according to a statement. It previously said the Oceti Sakowin camp would be closed on December 5.
"The Army Corps of Engineers is seeking a peaceful and orderly transition to a safer location, and has no plans for forcible removal," it said in a statement on Sunday, adding that "those who choose to stay do so at their own risk as emergency, fire, medical, and law enforcement response cannot be adequately provided in these areas."
It did warn, however, that "those who remain will be considered unauthorized and may be subject to citation under federal, state, or local laws."
The statement comes after authorities announced on Friday that they were "closing the portion of the Corps-managed federal property north of the Cannonball River to all public use and access effective December 5, 2016."
On Monday, North Dakota Governor Jack Dalrymple issued an emergency executive order for protesters to evacuate a campsite near the pipeline, citing "safety concerns and the potential danger to human life for those camping on federal property without proper shelter during harsh winter conditions."
It is not clear whether this will lead to arrests, but the protesters were ordered to leave and not return because "the unpermitted camp sites are not zoned for dwellings suitable for living in winter conditions and do not provide proper sanitation infrastructure to sustain a living environment consistent with proper public health."
A "free speech zone" was set up south of the river intended for peaceful protest according to authorities.
The Corps of Engineers has described the move as "necessary to protect the general public from the dangerous confrontations between demonstrators and law enforcement officials which have occurred near this area."
Supporters of indigenous tribes opposed to the 1,172 mile (1,186km) pipeline said they would not leave the camp, which is on federal land alongside North Dakota's Highway 1806 and the Missouri River. The announcement the land would be closed to them was described as a "disgusting continuation of 500 years of colonization and systemic oppression," a spokesperson for the Indigenous Environmental Network said.
READ MORE: 'We stand strong': Standing Rock water protectors defy Army Corps' threat of camp eviction (VIDEO)
Activists believe the pipeline, which will connect North Dakota to Illinois, could lead to water contamination at the Standing Rock Indian Reservation due to its proximity to the area.
Protests began in January when the project was approved. In April a camp was set up near the construction site which has since swelled to an estimated presence of 7,000 activists.
Last week officers used water canons on members of the camp blocking a bridge. Rubber bullets and tear gas were also reported to have been fired during the incident. Senator Bernie Sanders called on President Barack Obama to protect those who were peacefully protesting the construction.
READ MORE: Hundreds of protesters march through DC against DAPL (PHOTOS, VIDEOS)