'We stand strong': Standing Rock water protectors defy Army Corps' threat of camp eviction (VIDEO)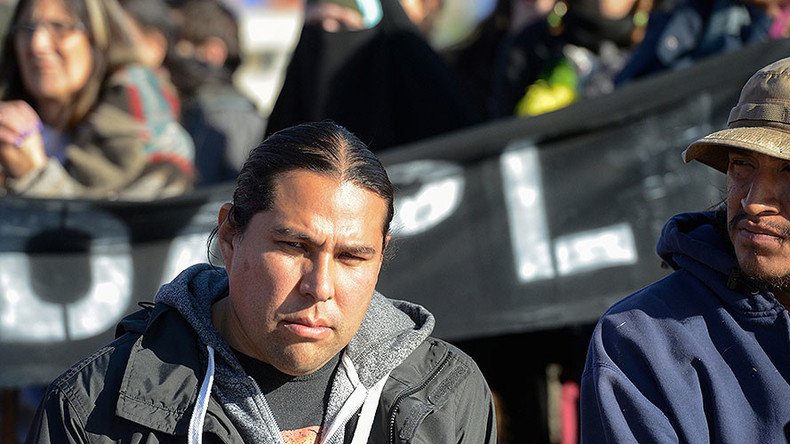 Standing Rock activists said they would continue to stand their ground in the fight against the crude oil Dakota Access Pipeline, in defiance of a US Army Corps notice which stated that the location of a protest camp will be out of bounds from December 5.
Supporters of indigenous tribes oppose the 1,172 mile pipeline from North Dakota to Illinois over water contamination fears and its proximity to the Standing Rock Indian reservation.
In a press conference held at the Oceti Sakowin protest camp, members of the indigenous community gave a united response to a letter sent to Standing Rock tribal chairman Dave Archambault II informing of possible evictions north of the Cannonball River.
Protesters, who call themselves water protectors, are currently camped on federal land alongside North Dakota's Highway 1806 and the Missouri River.
On Friday, the US Army Corps of Engineers announced plans to close the portion of federal land occupied by the water protectors due to "violent confrontations" and risks of serious injury due to the "harsh North Dakota winter conditions."
In response, Dallas Goldtooth, a member of the Indigenous Environmental Network, described the Army Corps of Engineer's letter as a "disgusting continuation of 500 years of colonization and systemic oppression".
"It's absurd for us to see such a declaration a day after Thanksgiving but that's the state of affairs that we are in," he told reporters at a press conference on Saturday.
He added that all tribes concerned with the pipeline will "stand strong".
"We stand strong to protect the sacredness of mother earth. We stand strong to defend our rights as indigenous peoples and we stand strong to defend our territorial treaty rights," Goldtooth said.
Apache Nation member Eryn Wise, of the International Indigenous Youth Council, said indigenous groups will "continue to make our stand" against the $3.7 billion oil project.
Speaking on behalf of her aunt, Ladonna Brave Bull Allard, a founder of the nearby Sacred Stone camp, Wise said, "right now our land is to be left unprotected if we are to leave this space … we are not going to allow that to happen".
Tribal chairman Dave Archambault II received the notice on Friday and said Standing Rock residents are "deeply disappointed" at the decision of US authorities.
"We ask that everyone who can appeal to President Obama and the Army Corps to consider the future of our people and rescind any permits and deny the easement to cross the Missouri River just north of our reservation and straight through treaty lands," he said in a statement.
"When Dakota Access Pipeline chose this route, they did not consider our strong opposition. We ask that the United States stop the pipeline and move it outside our treaty lands," he added.
You can share this story on social media: