Dakota pipeline protesters build bridge in battle for Turtle Island (VIDEO)
Published time: 25 Nov, 2016 00:26
Edited time: 28 Nov, 2016 23:06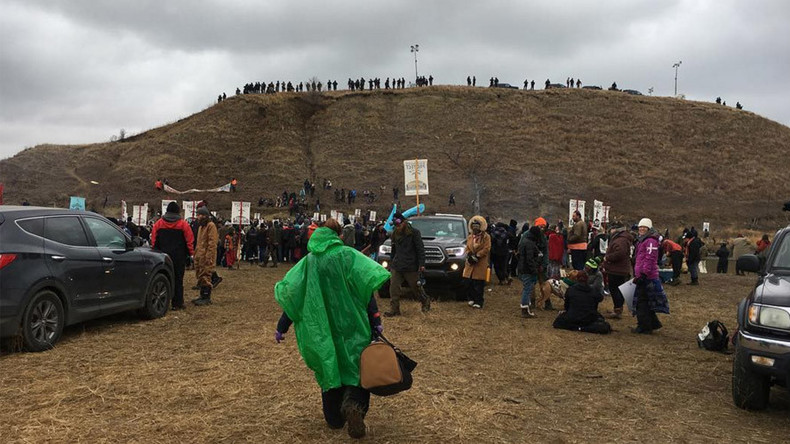 Activists fighting the construction of a crude oil pipeline through Native American lands have built a makeshift bridge to protect a sacred hill occupied by security and law enforcement in North Dakota.
Turtle Island hill has been the scene of a number of flashpoints involving protesters digging in against Energy Transfer LLC's project to build a 1,172 mile pipeline, which tribe leaders fear could threaten local drinking water.
READ MORE: Journalist hit with rubber bullet at DAPL protest (VIDEO)

The hill currently lies on land owned by the US Army Corps of Engineers. But according to the local Bismarck Tribune, the mound was once a Native American burial ground and still remains a spiritual location.
Drone footage posted on Facebook by Indigenous Rising Media, who support the push against the 570,000 barrels a day oil pipeline, shows scores of activists trying to gain access to Turtle Island on Thanksgiving Day.
READ MORE: Dakota Access pipeline CEO insists it will be completed

It reveals how a small wooden bridge has been erected to allow protesters to cross a small offshoot of the nearby Missouri River as officers, reportedly from Morton County Sheriff's Department, and private security stand on top of the hill.
APTN reporter Tom Fennario tweeted that regaining a foothold on the island was also achieved by activists using canoes.
Earlier this week protesters occupying a bridge section of the nearby Highway 1806 were hit with water cannon during sub-zero conditions.
READ MORE: 400 DAPL protesters 'trapped on bridge' as police fire tear gas, water cannon (VIDEO)
Meanwhile, Morton County Sheriff's Department has accused some protesters of rigging propane canisters to explode on Backwater Bridge.
The continued upheaval over the controversial $3.8 billion project comes amid a suspension of the project while government officials meet with members of the Standing Rock Sioux tribe.
CEO of Energy Transfer LLC Kelcy Warren has stated that the company will not consider rerouting the project despite pleas from natives.