Dakota Access pipeline CEO insists it will be completed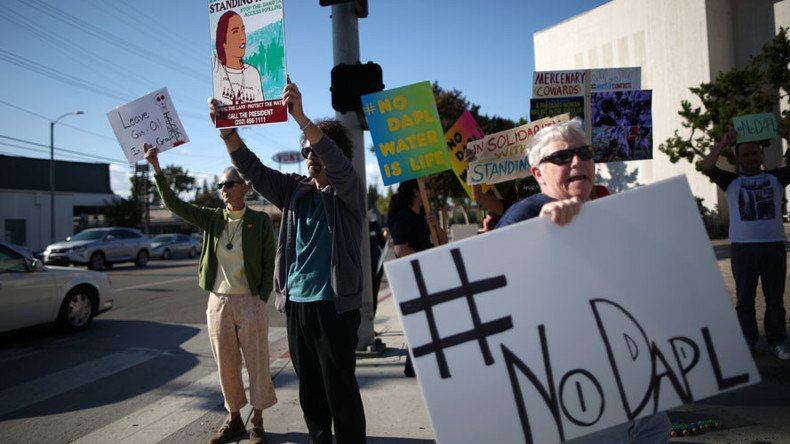 The CEO of Energy Transfer Partners, the company constructing the Dakota Access pipeline, said it will be completed despite the protests.
"This is not a peaceful protest," Kelcy Warren, CEO of Energy Transfer Partners told PBS on Wednesday. "If they want to stick around and continue to do what they're doing, great, but we're building the pipeline."
The Dakota Access pipeline construction has been partially halted by the federal government in September following a legal challenge by the Standing Rock Sioux tribe that the Army Corps of Engineers had failed to consult them when it fast tracked permits for the pipeline placement in North Dakota. They say that the pipeline threatened drinking water supplies, and its construction had already damaged ancestral sites.
On Tuesday, the Army Corps of Engineers informed the Standing Rock Tribe and the corporations behind the pipeline that "additional discussion and analysis are warranted" about the government granting an easement for construction on federal land.
"While these discussions are ongoing, construction on or under Corps land bordering Lake Oahe cannot occur because the Army has not made a final decision on whether to grant an easement," the Interior Department said in a statement.

While the Army Corps of Engineers has suspended work on the pipeline on federal land pending further review, private companies have continued building. Corporate security and police have clashed with protesters trying to block the construction.
Warren told PBS the work crews were not on Native American property, "we're on private lands," and the pipeline is "new steel pipe."
"We're boring underneath Lake Oahe. It's going to go 90 feet to 150 feet below the lake's surface. It's thick wall pipe, extra thick, by the way, more so than just the normal pipe that we lay."
"[We] are not going to have a leak. I can't promise that, of course, but that – no one would get on airplanes if they thought they were going to crash," Warren told PBS.
"[There] is no way there would be any crude contaminate their water supply. They're 70 miles downstream," he added.
The construction of the $3.7 billion pipeline has been drawing protests since spring 2016, the Sioux tribe and environmental activists claiming it could pollute nearby water sources and destroy the tribe's sacred sites.
On Tuesday, there were nationwide protests at Army Corps of Engineers buildings demanding the US government halt or reroute the pipeline.
In Bismarck, North Dakota on Thursday protesters held a demonstration outside Wells Fargo, one of the many banks investing the pipeline project. Police were caught on camera arresting one man, who they accused of trying to take an officer's gun, and who sustained injuries to his head during the arrest and subsequently complained that his shoulder had been dislocated.
The pipeline is currently about 85 percent complete, Phillipps 66, one of the pipeline's investors, said last week.
PBS asked Warren about the laxity of its safety records when one of its subsidiaries Sunoco Logistics had spilled more crude than any of its competitors, "200 oil leaks in six years."
"I disagree with that statistic about Sunoco Logistics. But everyone should be concerned about that. But keep in mind there's a difference here. This is a body of water. This is a pipe that's been designed specifically to fit into a bore underneath the riverbed," Warren said. "Any reports they're talking about with Sunoco, Sunoco is a 100-plus-year-old company. And there's some very, very old pipe."
PBS said the leaks had been in brand-new pipe. Among them 8,000 barrels with the Permian Express pipeline, the Keystone One spilled 14 times in its first year.
On Tuesday, Energy Transfer Partners and Sunoco Logistics Partners filed two related court filings in US federal district court seeking the final permit to complete the Dakota Access Pipeline accusing the Obama administration of political interference.
"Dakota Access Pipeline has waited long enough to complete this pipeline. Dakota Access pipeline has been granted every permit, approval, certificate, and right-of-way needed for the pipeline's construction. It is time for the Courts to end this political interference and remove whatever legal cloud that may exist over the right-of-way beneath federal land at Lake Oahe," said Kelcy Warren, CEO of Energy Transfer Partners.
The 1,200-mile-long pipeline would carry 500,000 gallons of crude oil every day from North Dakota through South Dakota and Iowa to a shipping point in Illinois.
You can share this story on social media: