Trump talks peace in Israel and Palestine, Syria; explains why he hired Bannon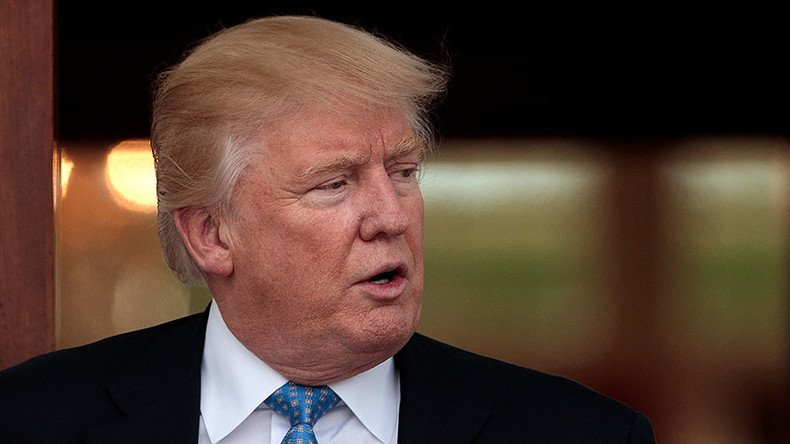 President-elect Donald Trump would like to be the first to make peace between Israel and Palestine, hinting his son-in-law may be the one to do it, he told the New York Times. He also explained his widely criticized choice for chief strategist.
Trump met with the publisher, editors and reporters from the New York Times after he first cancelled the interview with a newspaper that was highly critical of him throughout his presidential campaign.
Trump opened the discussion with a list of grievances about what he has referred to as the "failing New York Times" and the paper's coverage of his campaign, but admitted at the end of the 75-minute luncheon that the Gray Lady is "a great, great American jewel, a world jewel," adding that the hoped that the paper and his administration "can all get along."
During the campaign, Trump said that he doesn't read much because he doesn't have the time, but said Tuesday that he does read the New York Times. "Unfortunately. I'd live about 20 years longer if I didn't," he said.
Although he has been repeatedly antagonistic towards reporters and those who disagree with him, when Trump was asked about his attitude towards the First Amendment, he replied: "I think you'll be happy. I think you'll be happy."
The conversation covered a wide variety of topics. He discussed his plans for dealing with Israel and Palestine conflict...
...where he expects to receive some help from his son-in-law who is Jewish.
Trump shared some thoughts on Syria, but gave few specifics.
Trump repeatedly praised outgoing President Barack Obama for his role in the transition between administrations.
"I didn't know if I'd like him. I probably thought that maybe I wouldn't, but I did. I really enjoyed him a lot," Trump said, adding that they have spoken since their original meeting on November 10. "I think he's looking to do absolutely the right thing for the country in terms of transition."
Obama did discuss a series of world problems with the incoming president, including one particularly challenging one that Trump would not disclose.
The president-elect replied to criticism of his hiring of Steve Bannon, whom opponents say is a white nationalist, as his chief strategist.
He added that the accusations of racism have been "very hard" on Bannon. "I think he's having a hard time with it. Because it's not him."
On Breitbart News, the website for which Bannon formerly served as executive chair and which critics call part of the alt-right movement, Trump said that it's "just a publication."
"They cover stories like you cover stories. They are certainly a much more conservative paper, to put it mildly, than the New York Times," he said. "But Breitbart really is a news organization that has become quite successful."
Trump also denounced an alt-right conferenced in Washington, DC over the weekend that celebrate his victory, with some attendees offering a Nazi salute: "I disavow and condemn them," he said.
READ MORE: Twitter fuming after CNN puts neo-Nazi statement 'if Jews are people' on screen
Seemingly walking back his campaign promise to appoint a special prosecutor to investigate Democratic rival Hillary Clinton's use of a private email server during her time as secretary of state, Trump said he no longer wanted to investigate her.
"It's just not something that I feel very strongly about," Trump added.
Another campaign promise that Trump may not follow through on is withdrawing from the Paris climate accord. "I'm looking at it very closely. I have an open mind to it," he said.
READ MORE: Trump's climate change denialism portends dark days, climate researchers say
Trump discussed some of his potential Cabinet appointments, including retired Marine Corps General James 'Mad Dog' Mattis, whom he is "seriously considering" as secretary of defense. One thing that surprised Trump about Mattis, he said, was that the Marine doesn't favor waterboarding, a torture tactic that is illegal under both US and international law that Trump has said he wants to bring back.
The billionaire businessman brushed off reports of using his position as president-elect to benefit his corporate interests, saying that "the law's totally on my side, the president can't have a conflict of interest," and said that how his assets are performing is "so unimportant to me relative to what I'm doing."
Trump noted that it would be extremely difficult to sell off all his global real estate holdings, but that he had turned over the management of his businesses to three of his adult children.
"If it were up to some people," he said, "I would never, ever see my daughter Ivanka again."
Trump has been criticized for having his daughter and son-in-law sit in on his meeting with Japanese Prime Minister Shinzo Abe after he became president-elect.
You can share this story on social media: