Trump cancels interview with 'not nice' NY Times at last minute, then changes mind (UPDATED)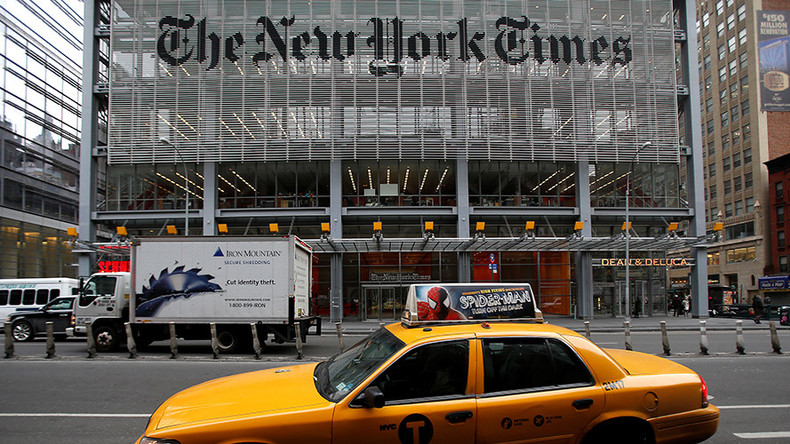 The ongoing spat between Donald Trump and New York Times continues after the president-elect initially cancelled a scheduled meeting with the newspaper at the last minute before later reversing his decision.
"I cancelled today's meeting with the failing @nytimes when the terms and conditions of the meeting were changed at the last moment. Not nice," Trump tweeted on Tuesday regarding the publication of which he has been highly critical for its reporting of him.
A few minutes later he tweeted that a new meeting may be possible. "In the meantime they continue to cover me inaccurately and with a nasty tone!" added Trump.
Political correspondent for the NYT, Jonathan Mahler, responded to Trump's tweets claiming it was the president-elect who changed the conditions of the meeting, requesting no on-record segment, which it refused.
"NYT did not try to change ground rules. Trump did, asking for only a private meeting and no on-the-record segment, which NYT refused," he said.
In a statement the publication said it became aware the meeting had been cancelled only when it read Trump's tweet.
Later on Tuesday, the NYT announced that the meeting will happen, with both on and off-the-record segments scheduled.
"Mr Trump's staff has told us that the President Elect's meeting with the Times is on again," the newspaper said in a statement.
Trump also tweeted that the meeting was back on, saying he was "looking forward to it."
The meeting between the NY Times and Trump is part of a number of meetings the president-elect has scheduled with news organizations before Thanksgiving.
Trump previously criticized the NYT, claiming he was treated unfairly during the election in its coverage which had led to the publication losing subscribers, a claim they deny.
READ MORE: 'Highly inaccurate': Trump picks Twitter fight with NY Times
You can share this story on social media: