'America first': Trump promises to dump TPP in first 100 days (VIDEO)
Published time: 22 Nov, 2016 02:03
Edited time: 22 Nov, 2016 15:35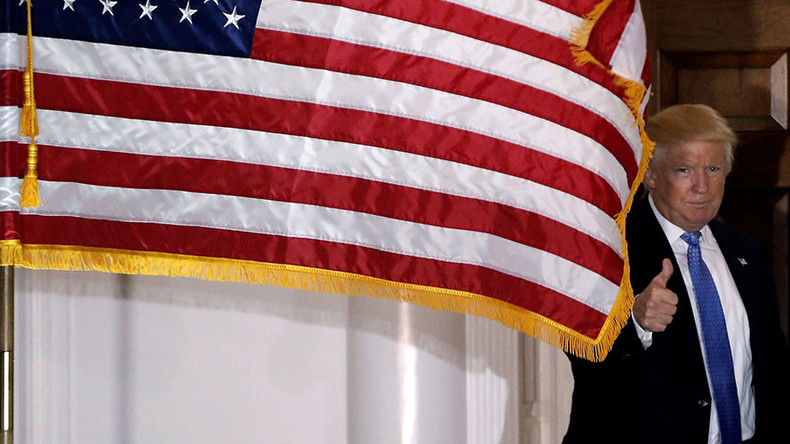 A video of President-elect Donald Trump laying out "a list of executive actions we can take on day one" covers international trade, domestic energy production, homeland defense, immigration and ethics reforms.
Assuring the American people that his White House transition team's work is going "very smoothly, efficiently and effectively," President-elect Trump gave an update via video on emerging policy proposals under the next administration.
"A simple core principle, putting America first," would be at the center of each agenda item, Trump said, "to restore our laws and bring back our jobs."
"It's about time," he added.
First on the list would be a "notification of intent to withdraw" from the TPP, or Trans-Pacific Partnership, in exchange for further negotiations on "fair, bilateral trade deals."
Trump then promised to "cancel job killing restrictions on the production of American energy," by instituting a rule that prohibits any single new regulation from being passed without first eliminating two old regulations, a plan which he called "so important."
READ MORE: Give Trump chance to develop positive objectives, says Kissinger
National security was next on the list, with the president directing the Department of Defense and the chairman of the Joint Chiefs of Staff "to develop a comprehensive plan to protect America's vital infrastructure from cyber attacks and all other form of attacks."
Back on the job front, Trump declared a plan to have the Department of Labor look into "all abuses of visa programs" that negatively impact US workers.
READ MORE: Bernie Sanders calls on Trump to apologize for 'racist' birther comments

Finally, regarding ethics reform, Trump vowed to enforce a "five-year ban" on lobbying for any executive branch official once they leave their job, as well as a "lifetime ban" on all foreign government lobbying. This he tied into his campaign's subtheme, "drain the swamp."