Fear of terrorism used as 'legislative magic wand' for surveillance, says Snowden (VIDEO)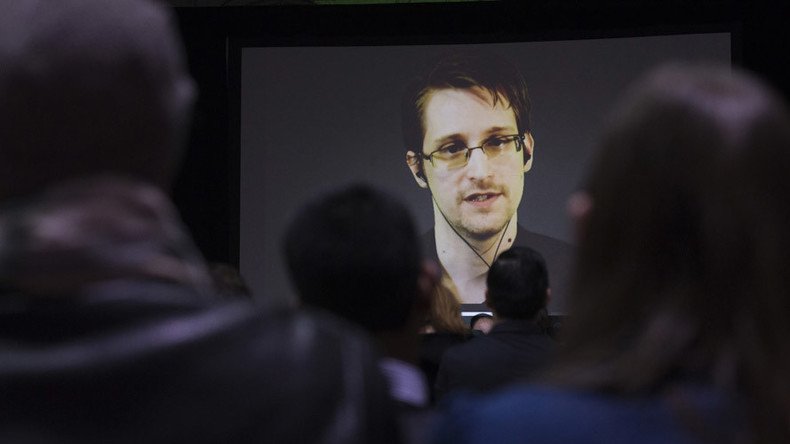 US surveillance whistleblower Edward Snowden warned that terrorism has been treated as a "legislative magic wand" for facilitating increased state surveillance
Snowden was speaking at a special Q&A event Friday, hosted by a Norwegian freedom of expression group PEN International.
Joining the organization's Q&A session live from Moscow, Snowden spoke via Skype to interviewer Christian Borch about the increase of mass surveillance since 2013, the impact of 'politics of fear' and the lack of laws protecting whistleblowers.
When asked if Snowden thought his groundbreaking revelations had made any "significant political effect" over the last three years, the whistleblower warned the problem of state surveillance is actually worse than ever.
"[The] UK just this week passed the most extreme surveillance bill in the history of western surveillance. In fact many commentators and legal experts have said they're bill is worse than the new Chinese surveillance bill," he said.
"Germany has passed what it called reform laws that actually reduced the rights that are enjoyed by German citizens. The French have done the same."
READ MORE: Britain's mass surveillance bill rubber-stamped by House of Lords

Snowden went on to call this new wave of legislation a "tipping point in the history of our rights" and stressed the responsibility for creating change lies with the people, as history has taught us that "elected officials can and must be trusted as little as possible."
"The boundaries of what we consider orthodox, of what it means to live in a free society, are being reshaped, often behind closed doors without our knowledge and consent."
Snowden went on the blame the 'politics of fear' for aiding legislators who use 'national security' to push their agenda for greater surveillance, saying: "Terrorism has become somewhat of a legislative magic wand."
Regarding US President-elect Donald Trump's appointment of Rep. Mike Pompeo as director of the CIA – the man who has called for Snowden to face the death penalty over his NSA disclosures – Snowden stressed the need for international laws protecting whistleblowers.
"It's become quite clear that with any national context, there are no meaningful whistleblower protection laws practically anywhere," he said.
He added that whether talking about Switzerland, France, Germany, the UK, Russia, China or the US, all countries have been proven to retaliate "in ways that are extreme and unjustifiable" against those who expose their wrongdoings – a reaction which, Snowden says, is at the heart of the problem.
"We need an international system that mitigates the natural human response of wanting to retaliate against those who embarrassed us."
The event focused on five writers "imprisoned around the world", including Snowden, former Pentagon senior official and whistleblower, John Crane, former Guardian editor-in-chief, Alan Rusbridger, and MOP politicians Michael Tetzschner and Snorre Valen.
READ MORE: Snowden's anti-extradition lawsuit dismissed by Norwegian court
Last June, an Oslo court denied Snowden's request to not extradite him if he entered the country to accept an award from PEN for his contribution to the defense of free speech.
Snowden has been living in Russia since he was granted asylum there in 2013. The former NSA employee has been in exile since he released confidential documents that exposed the National Security Agency's mass surveillance of people around the globe.
Snowden has become a symbol for pro-privacy activists against government surveillance. His lawyers have appealed to President Barack Obama to grant Snowden an official pardon before his three-year Russian asylum ends.
Watch the interview in its entirety, below:
You can share this story on social media: