Trump-supporting high school student attacked over 'racist' Instagram post (VIDEO)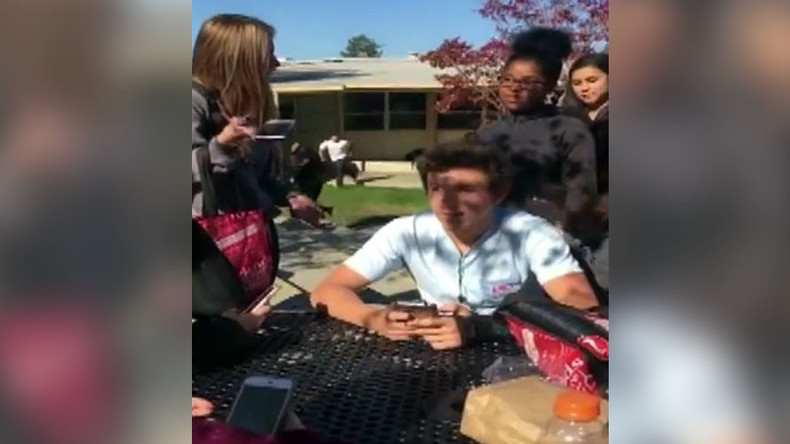 A shocking video of a Trump-supporting Californian high school student being attacked by a classmate over an Instagram post has sparked a police investigation into the incident.
The footage taken at Woodside High School, on the border of Redwood City, shows a confrontation between two girls becoming violent.
The student attacked in the video, Jade Armenio, told Kron4TV that she had posted a screen grab of CNN projecting Donald Trump's win on Instagram on election night. A friend commented "Hell yeah," followed by another comment "F Mexicans." Armenio replied, "One of the few things we can agree on."
The sophomore claims she was responding to the first comment however the student who attacked her later in school targeted her over the "F**k Mexicans" remark.
READ MORE: Man kicked in head, has car stolen as bystanders shout 'You voted Trump' (GRAPHIC VIDEO)
In the video, Armenio is asked about the social media comments and denies she was agreeing with the racist remark. Other students chime in to confirm that she did agree with it, with one commenting "you most definitely did".
The student challenging Armenio about the comments then lashes out, knocking her to the ground and continuing to hit her while shouting "F**k you bitch".
The confrontation occurred in the school yard as other classmates sat nearby at a table. Another female student intervened to break up the attack, shouting "get off of her".
Armenio's mother Gina Armenio told KRON4 that her daughter has Mexican and black friends and is not racist. Her father Todd Armenio echoed this sentiment telling The Mercury News"She would never do that. We don't raise our kids like that." He also accused the school of a slow response to the incident.
The school district's superintendent, James Lianides, issued a statement saying: "Woodside staff responded immediately to the incident. The incident was investigated in conjunction with law enforcement and appropriate disciplinary action has been taken."
The girl who launched the attack has reportedly been suspended pending an expulsion hearing.
School principal Dianne Burbank issued a statement Thursday, a day after the attack, addressing a peaceful protest held on campus over the election result. In her notice, Burbank reminded students they would face disciplinary action for "creating unsafe situations".
READ MORE: Michelle Obama racial slur: US mayor under fire over viral Facebook post
Students at Woodside High took part in a wider protest Monday that involved walkouts from schools across California. Ahead of the protest, Burbank posted a message on the school website encouraging students to consider different points of view and "practice that with your classmates".
San Mateo County Sheriff's Office is investigating the alleged assault. On Saturday, Redwood City Police Department clarified in a statement that they were not dealing with the investigation as Woodside High falls outside their district.