Rudy Giuliani's foreign dealings may complicate rise to Trump cabinet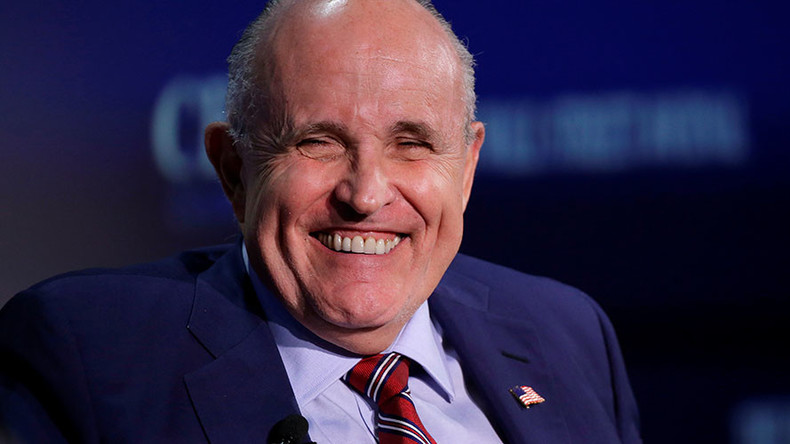 Rudy Giuliani has secured a position within President-elect Donald Trump's transition team, but past consultancy roles for foreign governments raise serious suspicions about whether he will be fit to fill any higher post in Trump's cabinet.
Former New York City Mayor Rudy Giuliani is best known for serving during the September 11, 2001 attacks, but he has led a full life outside of his mayoral terms. Business dealings with Qatar, Iran and the TransCanada pipelines could pose conflicts of interest to his service as a member of Trump's transition team.
Widely reported to be Trump's top choice for secretary of state, his limited foreign policy experience involves lobbying on behalf of foreign governments as well as potential business deals in the US.
When Giuliani left office, he worked as a consultant and lawyer with his consulting firm, Giuliani Partners. From there, he would make "friends from all over the world," as he told the New York Times.
But some of his friends could stand to make a lot of money off of Trump's proposed policies.
For example, Giuliani Partners has had contracts with TransCanada – the company behind the Keystone XL Pipeline that has expressed interest in working with Trump. Trump is likely to being open to working with them, as he named them specifically in his plan for his first 100 days in office, saying he will "lift the Obama-Clinton roadblocks and allow vital energy infrastructure projects, like the Keystone Pipeline, to move forward."
While Trump and TransCanada bat their eyelashes at each other, Giuliani has not explained what services he provided TransCanada. He did not address it directly in his interview with the Times, only saying his firm had offered security services to TransCanada in relation to a proposed natural-gas facility in Long Island.
However, the problem is that if Giuliani becomes Secretary of State, TransCanada's application to begin the Keystone XL pipeline will land on his desk.
On a domestic level, Giuliani Partners has been very involved with the pharmaceutical industry – particularly opioids. In 2002, when OxyContin manufacturer Purdue Pharma was accused of misleading the public over the potential risk of addiction from its drugs, they put their faith in Giuliani. In 2004, Purdue paid $2 million in fines from the DEA over charges that they had misled the public over the drug's resistance to abuse.
Purdue was Giuliani Partners' first and longest client, the New York Times reported. However, he has yet to comment on how much he earned from the opioid manufacturer. One consultant to the drug maker estimated that the firm had earned several million dollars from the account.
Giuliani's connections to TriGloval Strategic Ventures (TGSV) are some of the strangest. The company that aims to "assist Western clients in furthering their business interests in the emerging economies of the former Soviet Union," and the former mayor's involvement is described in the biography of TGSV President Vitaly Pruss: "From 2008 to 2011 Mr. Pruss worked closely with Giuliani Partners, LLC - international consulting company of former New York [sic] Mayor Rudolph W. Giuliani."
However, the website claims that in 2004, "Former Mayor of New York City Rudolph Giuliani visits Magnitogorsk, Russia for a series of business meetings with Victor Rashnikov, Chairman of the Board of Directors of Magnitogorsk Iron and Steel Works Company and other top executives."
TGVS's numerous ties include Russian state-owned pipeline company Transneft, which is currently under US sanctions over Ukraine.
Those are just the potential issues from Giuliani Partners. Bracewell & Giuliani, a Houston-based law firm where he is a partner, also presents a cornucopia of problems. The company has lobbied at a federal level for energy companies and also represented a private prison operator. Giuliani has since resigned from the firm.
Giuliani's potential conflicts of interest are not limited to North America. Lobbying for foreign governments is not a crime, but President-elect Trump has discussed banning his administration from self-dealing as part of his promise to "drain the swamp."
Giuliani often berated Democratic nominee Hillary Clinton for giving paid speeches, once saying, "she takes millions and millions and millions of dollars… in speaking fees from dictators, oppressors; from people who discriminate against women to people who run countries where women can't drive cars."
A subsidiary of the Giuliani Partners, Giuliani Security & Safety, was paid to provide security advice to a Singapore gambling project on behalf of a partnership that included Stanley Ho in 2007. In 2000, the US International Crime Threat Assessment called Ho "a reputed organized crime figure," according to the Chicago Tribune.
Ho's friendship with North Korean dictator Kim Jong Il allowed him to open a casino in Pyongyang back in 1999, and it was reported that in 2003, he offered asylum in North Korea to Saddam Hussein.
Giuliani downplayed links to Ho, telling the late Tim Russert of NBC News: "I think the person involved, if it's correct, was a 1 percent owner that had no involvement with us, we never worked for, had nothing to do with."
The bid was ultimately rejected and William Eadington, an economics professor at the University of Nevada, told the Chicago Tribune that Ho's affiliations could have played into the deal, saying, "I think anything very close to Stanley Ho they [Singaporean regulators] are going to have trouble with."
In 2011, Giuliani was paid to give a paid speech on behalf of the Iranian political party known as the Mujahedin e-Khalq (MEK), Politico reported.
In his speech to the State Department, Giuliani lobbied to have MEK removed from a list of terrorist organizations. In 2012, then-Secretary of State Hillary Clinton complied and removed the group from the list.
Giuliani was not the only former politician to campaign on behalf of the MEK, and the majority of them accepted $15,000 to $30,000 to give speeches, but some reported receiving over $100,000, the New York Times reported.
Giuliani's past involvement with foreign powers and domestic corporations may cast a shadow on his hopes of being in charge of highly sensitive diplomatic matters. However, with Trump's children running his company while he takes office, it might be just the tip of the conflicts of interest for the president-elect's transition team.