Trump Organization's "blind trust" poses quagmire of conflict of interest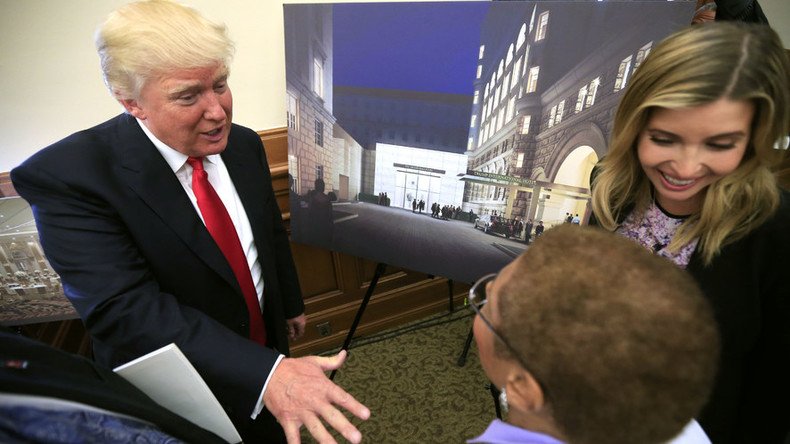 President-elect Donald Trump's victory meant many different things to people all across the US, but to ethics officials, the businessman's election has created a logistical minefield concerning his debts, investments and assets.
The Trump Organization announced on Friday that management will be transferred over to his three adult children (excluding Tiffany). Many believe that this move has created a conflict of interest, particularly because the three Trump children are also serving on the presidential transition team, Bloomberg reported.
There are no existing laws that dictate how a president-elect is to handle their assets after an election. Modern presidents, such as Ronald Reagan, Bill Clinton and both Bushes, opted to place their assets in "blind trusts," meaning they were bought by an independent trustee with as little connection to the president as possible.
In short, the people placed in charge of a president's assets are typically not people that the president invites over for the holidays.
However, by having Donald Jr., Eric and Ivanka managing the Trump Organization and helping Trump pick his cabinet members, the lines between Trump's presidency and his business are blurred.
Meredith McGehee, a strategic adviser at the Campaign Legal Center, explained that by having the children operate his organization and play a role in his presidency means that they have created a bridge between Trump as a businessman and Trump as a president. "It's a clear demonstration that there is no firewall between the two," she told The Washington Post.
In addition, this move casts a shadow on any choices that the Trump transition team makes towards positions in regulatory roles that would affect his international business.
This isn't the first time the Trump campaign and the Trump Organization have been mixed together. In September, Politico found that his campaign paid $8.2 million to his own company for things like renting campaign offices in Trump Tower.
However, this kind of entanglement of the Trump Organization and the Trump presidency could become increasingly problematic given that the Trump Organization has financial ties to countries like Saudi Arabia, India, Russia, Ukraine and the United Arab Emirates.
"Now we are faced with the possibility that a son or daughter of the president will turn up in Moscow or Uzbekistan or somewhere else negotiating a deal on a new property that will bear the name of the president, and the full knowledge that the president really is an owner of the company," Trevor Potter, a former Federal Election Commission chairman and general counsel for George H.W. Bush and Senator John McCain (R-Arizona) told The Washington Post.
Trump's attorney Michael Cohen defended the choice telling reporters, "He's not interested in the company anymore. He said it [Wednesday] in front of a whole group of people. He's interested in fixing America."
You can share this story on social media: