Twitter turns on third-party candidates in search for Clinton scapegoat
Published time: 9 Nov, 2016 13:19
Edited time: 10 Nov, 2016 10:59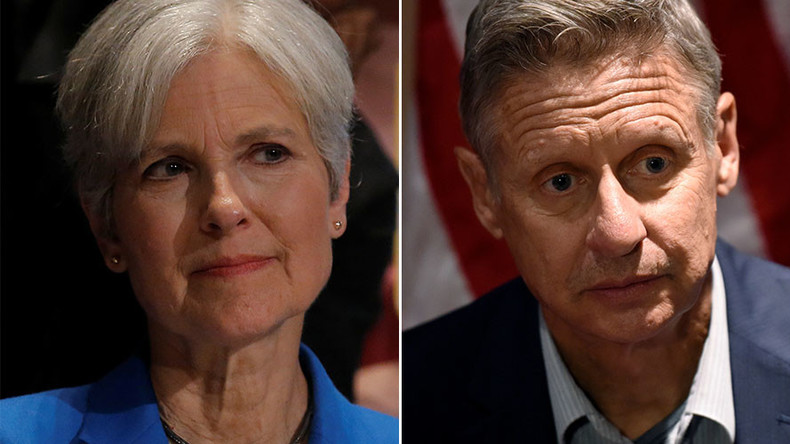 Third-party presidential candidates Gary Johnson and Jill Stein are facing a torrent of abuse on Twitter as Hillary Clinton supporters seek to explain Donald Trump's stunning victory.
Reeling from their preferred candidate's shock defeat and ignoring any weaknesses in Clinton's own campaign, many of her supporters have taken to social media to lash out at Johnson and Stein, blaming them for enabling Trump to secure the White House.
READ MORE: It's official: Trump to become 45th president of the United States
One tweet claiming that "If you voted for Gary Johnson or Jill Stein, you voted for Trump" received more than 58,000 retweets within a matter of hours.
Much of the online abuse directed at Green Party candidate Stein alleged that she helped a climate change denier become the most powerful man in America.
Looking at the key swing states of Florida and Pennsylvania, where a total of 49 electoral college votes were up for grabs, Johnson and Stein have become a lightening rod for Democrats' opprobrium.
In Florida Trump secured 1.4 percent more of the vote than Clinton (49.1 percent – 47.7 percent) while Johnson and Stein picked up 2.2 percent and 0.7 percent respectively.
The result has yet to be finalized in Pennsylvania but Trump is set to win by around 1 percent, with Johnson and Stein accumulating around 3.6 percent of the vote.
Had Florida and Pennsylvania gone Clinton's way then she, and not Trump, would be the one waiting to become the 45th president of the United States.
Obviously these claims rely on the unfounded argument that all Johnson and Stein voters would have otherwise voted for Clinton, despite the candidates each having substantially different political views.
The tirade against Johnson and Stein voters also crucially ignores the electorate's right to vote for whomever they see fit, as other social media users quickly pointed out.