'Our culture has gotten too mean': Melania Trump sends social media into frenzy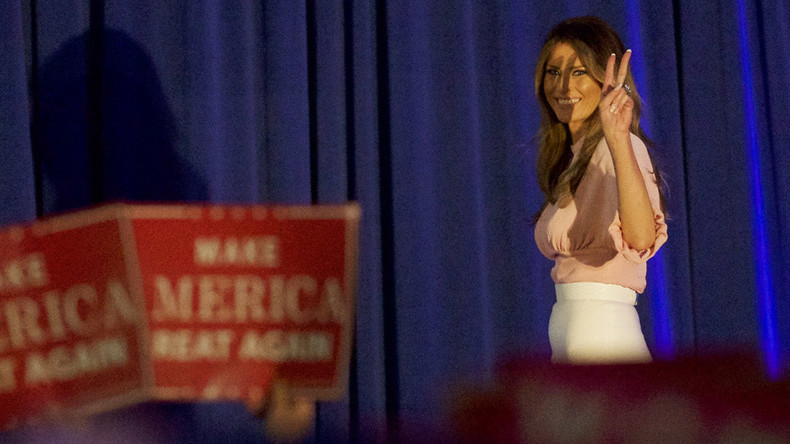 Speaking at a rally in Pennsylvania, Melania Trump promised to be an advocate for women and children and take on online bullying. Unlike her speech at the RNC, the speech was mostly original – and it sent Twitter into a frenzy.
Claiming it would be an "honor and a privilege to serve as First Lady of this country," Melania Trump talked about her focus on children as a full-time mother to 10-year-old Barron. In addition, she talked about Donald's election run, painting her husband as someone who loves America.
"This is not an ordinary campaign," she said. "It is a movement, in which people feel included, inspired and involved."
She focused on Trump being a nominee for the neglected, saying "Donald promised to campaign on behalf of those who feel the system is broken and does not work for them, those who just want a fair shake, an opportunity for a better education, a better-paying job, a better future."
Melania spoke about dreaming of America while growing up in Slovenia and her pride after becoming a citizen, earning cheers from the crowd.
Her speech concluded with an appeal to civility that many critics derided as being out of touch with Donald Trump's public statements.
"As adults, many of us are able to handle mean words, even lies. Children and teenagers can be fragile. Our culture has gotten too mean," Melania Trump said.
Following the gaffe at the RNC when chunks of Melania's speech were lifted from a 2008 speech given by Michelle Obama, Mashable took the precaution of running the transcript of her speech through a plagiarism checker. It passed the test with only 22.5 percent similarity to other online sources, which largely consisted of other sources and articles writing about her speech.
However, some internet sleuths found one interesting line in her speech. When talking about her family and youth in Slovenia, she said "American meant, if you could dream it, you could become it."
That is very similar to a quote from a Marla Maples interview in 2011 where she discussed her youth and upbringing in the South and concluded, "I believed if you could dream it, you could become it."
Melania just plagiarized Trump's second wife Marla Maples. Here's the only Google results for "if you could dream it, you could become it": pic.twitter.com/ALeHuSZqEm

— (((Yair Rosenberg))) (@Yair_Rosenberg) November 3, 2016