3yo brings father's loaded gun to school in Washington, DC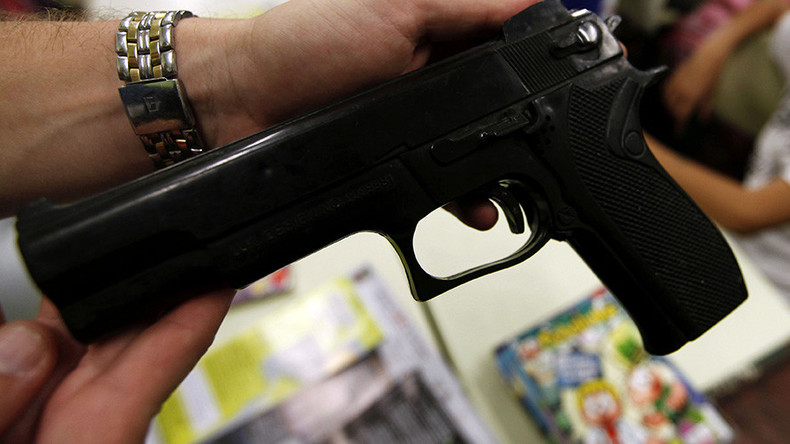 A 3-year-old boy took a loaded semi-automatic pistol to his elementary school in Washington, DC, where it was fortunately found by a security guard. It later appeared the gun belonged to the boy's father, who had no license.
The father, 31-year-old Anthony Earl Chiles, was arrested Tuesday after bringing his son to Moten Elementary School on Morris Road SE in Southeast DC.
Despite the arrest, this story is still surrounded by mystery.
Chiles was bringing his 3-year-old son to school at around 9:30 a.m. Tuesday when they were stopped by a security guard. WTTG has cited a charging document, which said that surveillance cameras recorded Chiles and his son.
Footage shows the father keeping a hand on top of the boy's backpack as they entered the school's premises. However, they were reportedly running late that morning, and Chiles was not allowed to take the boy inside the school.
Instead, the security guard had to lead the boy into his classroom. While on the way, the guard asked the boy's name, but the 3-year-old failed to identify himself, raising suspicion. This is when the guard, who according to WTTG could not recognize the boy, decided to check his backpack. Inside he found a loaded Glock 17 9mm, semi-automatic pistol.
Investigators have investigated members of the family after Chiles was arrested. The boy's grandmother and another person said they did not see the boy with a backpack. During his appearance in court on Wednesday, Chiles denied putting a gun in his son's backpack.
He has been charged with carrying a pistol without a license, possession of unregistered ammunition and recklessly endangering a child's physical, mental or emotional health, according to the Associated Press.
However, as WTTG reported, Judge Renee Raymond indicated Wednesday the case lacked evidence, which he described as "ridiculously slim" and "barely a footprint in the snow."
Raymond ruled Chiles to be held in detention overnight, but he is set to appear at a hearing Thursday morning.
The security guard's vigilance has potentially prevented this case from adding to the statistics of child-committed shootings in the US. As of October 20, there have been 51 shootings involving toddlers in the United States, according to the Washington Post.
Another review conducted by the Associated Press and USA Today over a period of 2 1/2 years found that nearly 90 3-year-olds were killed or injured in the shootings between January 1, 2014 and June 30, 2016. According to their analyses, deaths and injuries spike for children under 5, and the age of three is the most common.
You can share this story on social media: