'There's no good answer': Podesta leaks show Clinton campaign stumped by email server debacle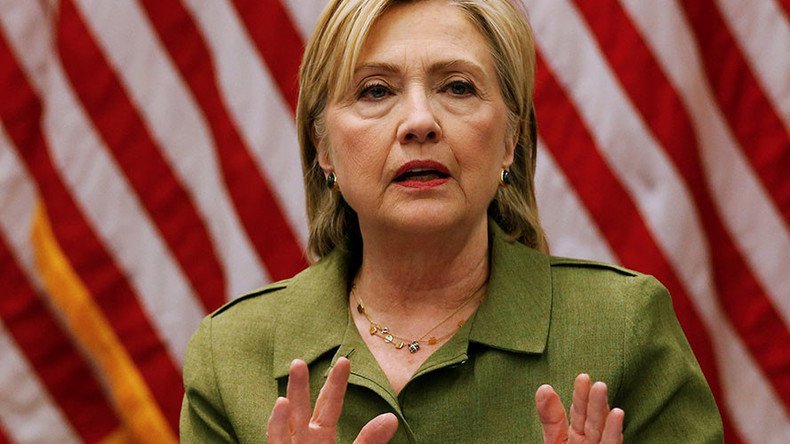 The latest tranche of emails from the account of John Podesta, Hillary Clinton's campaign chair, has been released by WikiLeaks.
With the whistleblowing site promising the release of around 50,000 emails from Podesta, Wednesday's dump brings to 33,042, the number of messages published by WikiLeaks so far.
READ MORE: #Podesta leaks continue with 18th release of emails from Clinton campaign chair
No good answer
"There is just no good answer," Clinton aide Philippe Reines tells Podesta in a panicked mail from March 2015 in which they discuss Clinton's reasoning for using a private email server.
The mail is sent to Podesta after New York Times columnist Thomas Friedman mailed Clinton aide Anne-Marie slaughter saying, "I have to say I am troubled by what I have read about what Hillary did."
Slaughter then forwards the mail to Clinton's team to tip them off as to what to expect from the press.
Psychotic
A mail Podesta sends to Neera Tanden on June 3, 2008, near the end of the Democratic primary race, appears to call Clinton's decision not to concede to Barack Obama at the time "psychotic."
In the mail titled 'All things are never equal', Tanden tells Podesta "She's not conceding tonight... And not anytime soon, either," to which he replies "Former smart; latter psychotic."
The mail is sent in the days following Clinton's primary win in Puerto Rico, a late and futile victory in her battle to beat Obama for the Democratic nomination for president.
Four days after the mail was sent Clinton conceded defeat to her rival.
Move right before the general election
In December 2015, Hill columnist Brent Budowsky advises Podesta about Clinton's statements on Islamic State (IS, formerly ISIL/ISIS).
"She will never state what I believe we need to do...because she is consumed with keeping Obama's goodwill and afraid of liberal backlash," he writes.
"But at the least she should not be branding and infecting herself with Obama's policy towards Syria and ISIS by offering such high and direct praise for it."
"She can praise him [Obama] but every time she does she should immediately follow it with positive reminders of the success of the Bill Clinton presidency."
"Every time she mentions Obama positively, follow it by mentioning Bill Clinton a bit more positively. And when possible mention JFK as well."
He concludes: "She appears locked into a tactical approach which is a Democratic version of the Richard Nixon strategy in the 1960's and 1970's – move left before the primaries before the nomination and then move right before the general election after the nomination."
A Liberian is coming
Jennifer Palmieri, communications director for Clinton, bizarrely declares her intention to show a bullet to a new member of staff in a June, 2015 email. When informed of new employee from Liberia, Cara Bernard, Palmieri responds, "Another Liberian! I will show her the bullet you gave me!"
The communication from Marlene Vasilic of the Center for American Progress is titled 'A Liberian is coming!'
READ MORE: Best of the worst: Here are the most shocking WikiLeaks Podesta emails so far
Handling the press
In July 2015, Tanden passes on advice from 'Howard' about dealing with the New York Times' Arthur Schulzburger.
It details how former New York Mayor Michael Bloomberg confronted Schulzburger for "treating him like a billionaire dilettante instead of third term mayor."
Describing Schulzburger as "a pretty big wuss" Tanden says "Hillary would have to be the one to call."
Tanden says Howard thinks "the brown and women pundits can shame the times and others on social media."
"So cultivating Joan Walsh, Yglesias, Allen, perry bacon, Greg Sargent, to defend her is helpful," Tanden says. "They can be emboldened."
You can share this story on social media: