FBI agents, prosecutors to be replaced in Eric Garner probe in rare shake-up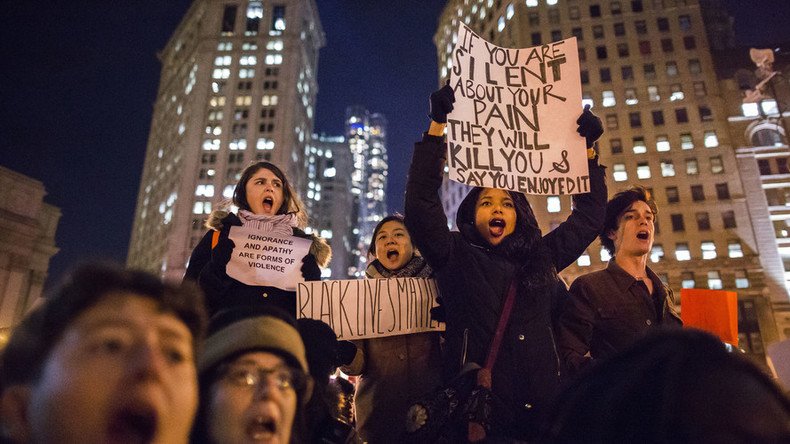 The Department of Justice has replaced New York-based FBI agents and federal prosecutors who reportedly do not believe charges should be brought against an NYPD officer who killed Eric Garner in 2014. The rare move is expected to advance the probe.
The DOJ opened the investigation into Garner's death in December 2014, after a New York State grand jury decision not to indict New York Police Department officer Daniel Pantaleo. Garner, 43, had been confronted by Pantaleo and another officer for allegedly selling "loosies" — untaxed cigarettes — on a street corner in Staten Island, before Pantaleo put Garner in a chokehold. Garner eventually died, repeating "I can't breathe." His last words became a slogan of numerous protests against police brutality.
The federal civil rights investigation has since stalled, according to the New York Times, as federal prosecutors and FBI agents in New York assigned to the case have argued that federal charges should not be brought against Pantaleo, who has remained an NYPD officer working on desk duty since Garner's death.
Prosecutors with the DOJ's Civil Rights Division in Washington, however, believe there is evidence to bring charges, and, in recent weeks, the New York-based team was removed from the case, the Times reported citing five anonymous federal officials in New York and Washington. Prosecutors in Washington will assume the case. Whether they will act alone in presenting evidence to a Brooklyn grand jury is yet unknown, the Times reported.
If the new team of prosecutors does decide to bring charges against Pantaleo — a prospect that is still months away, officials said — it will have to prove that Pantaleo acted with clear intent to violate Garner's civil rights, a tall order according to a recent analysis.
In March, the Pittsburgh Tribune-Review reported that federal prosecutors chose not to bring charges against officers alleged to have committed civil rights violations in 96 percent of cases form 1995 to 2015, mostly based on reasons that included weak or insufficient evidence, a lack of clear intent to infringe on another person's civil rights, and discouragement from the DOJ.
Pantaleo has maintained, as he did in the New York grand jury case, that he acted with his NYPD training in mind.
"If it is true that the Justice Department is rejecting the recommendations of seasoned FBI agents and assistant United States attorneys, this is a gross miscarriage of justice," said Stuart London, an attorney for Pantaleo. "In our system of justice, politics should never take the place of the rule of law."
Furthermore, to bring charges will mean that Pantaleo's defense can point to internal disagreements over the case exemplified by the new shift in federal investigators assigned to determine any such charges. Officials also told the Times that FBI reports — potential evidence in the case — highlight the disagreements.
Eric Holder, US attorney general when the investigation began, agreed with civil rights prosecutors in believing the evidence showed charges should be brought in the case, according to a DoJ official. As US attorney for the Eastern District of New York, current attorney general Loretta Lynch oversaw the investigation when it began.
Garner's death in July 2014, along with similar police killings of unarmed people of color such as Michael Brown in Ferguson, Missouri, became a rallying point for nationwide protests of police use of force policies, law enforcement impunity, and institutional racism in America.
In July 2015, the family of Eric Garner agreed to a $5.9-million settlement with New York City. Meanwhile, the man who filmed Garner's police encounter has said he has been harassed and pursued by NYPD officers ever since.
"From then on, I've been targeted by the NYPD," Ramsey Orta told Democracy Now in January, explaining, "I got five pending cases right now—two in Supreme Court, three in criminal. Since then, I've just been harassed. I've been almost killed in Rikers Island." He is currently serving four years on drug and weapons charges.
You can share this story on social media: