Shooting the messenger: Citizen journalists jailed for recording police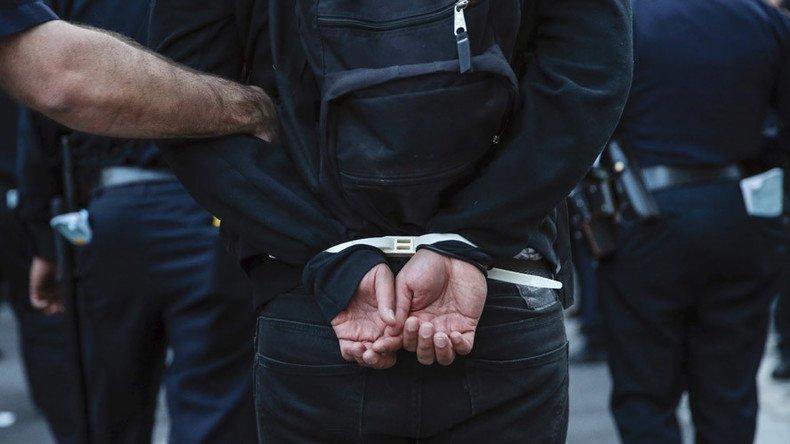 Police practices are under fire as more recordings of excessive force and racist behavior surface. Some departments have responded by trying to work with communities to regain trust, while others try to silence whistleblowers.
The availability of smartphones and cameras has empowered citizens to become guerrilla journalists who feel protected by the First Amendment. However, many have been shocked to discover revealing police misconduct may result in being targeted and harassed by law enforcement.
Filmmakers David Felix Sutcliffe and Laura Poitras have asked the documentary community to show their solidarity for civilian journalists by signing a petition. So far, the petition has at least 306 names, including multiple Academy Award-winning and nominated documentarians.
The Electronic Frontier Foundation has endorsed their petition, saying in a statement, "Arrests of grassroots journalists who record police activities implicate not only the 1st and 14th Amendments to the U.S. Constitution, but also the very legitimacy of our legal system, which grounds its claim to power in impartiality. Yet, around the country, the law has subjected to penalties people pursuing constitutionally protected activities that enhance transparency, while turning a blind eye to the violence prompting residents to place themselves at risk."
The petition asks the Department of Justice (DOJ) to investigate the arrests of civilian journalists who film police actions. This shouldn't be a difficult request, because the DOJ has acknowledged it as a problem in prior investigations.
In the DOJ's 2015 report on the Ferguson Police Department (FPD), they wrote, "FPD officers also routinely infringe on the public's First Amendment rights by preventing people from recording their activities," and "the federal courts of appeal have held that the First Amendment 'unambiguously' establishes a constitutional right to videotape police activities."
Despite this, citizens who record police often find themselves in the crosshairs. For example, the day after Chris LeDay filmed the death of Alton Sterling, he was detained after police told him that he "fit the description" of someone wanted on battery charges. He would end up spending the night in jail for unpaid fines, Complex reported.
Abdullah Muflahi owned the convenience store Sterling died in front of and is now suing the Baton Rouge Police Department after that they detained him for four hours while they confiscated his store's security system along with his cellphone, the Daily Beast reported.
While police may be more aware of citizens' rights to film them, they still have the power to make watchdogs and whistleblowers' lives miserable. For example, Ramsey Orta's name became public news when in 2014, he recorded the death of Eric Garner at the hands of the New York Police Department (NYPD).
Since then, Orta found himself on the NYPD's radar. He claims they've harassed and targeted him. In January, he told Democracy Now! that after telling the Daily Mail he had a video of Eric Garner's arrest, he was targeted.
"From then on, I've been targeted by the NYPD," he said, explaining "I got five pending cases right now—two in Supreme Court, three in criminal. Since then, I've just been harassed. I've been almost killed in Rikers Island."
It was not just him, but his family as well. His wife was arrested on assault charges.
"She got arrested for assault charges that were allegedly caught on camera," Orta explained, but the charges were mysteriously dropped when they arrived at court.
His stints at Rikers Island were fraught with tension, as he only ate pre-packaged commissary foods after learning that guards were slipping rat poison into the food, he told Vice. In fact, a local New York newspaper managed to get photos of rat poison tablets in meatloaf.
Unfortunately for Ramsey, some of the charges thrown at him have managed to stick. He will soon begin serving four years on drug and weapons charges.
He spoke with RT about what he experienced. He told RT that, "Internal Affairs came to my house, tried to get the video from me."
Orta was no stranger to recording police activities prior to Garner's death; he had been posting videos of what he believed to be excessive force on YouTube. However, he believes that the ability to do so may be at risk.
"That's the only reason why they're trying to pass laws to lock people up for it" he said.
Orta mentioned spending time with Kevin Moore, the man who filmed Freddie Gray's arrest. Moore was arrested at a protest in May 2015 in a move that he believes was a form of witness intimidation. He told Vice that the police "waited until I got away from the protest and my people to protect me."
Following the death of Freddie Gray, Moore was surprised to see his own face and personal information shared on the internet, saying he was wanted for questioning.
"They plastered my picture all over the internet hoping people would come forward and tell on me," he said.
But for those who are willing to film, he advises anyone to "Make sure you have a legal team backing you up."
You can share this story on social media: