It's Russia & RT! Team Clinton knows who's to blame for Podesta leaks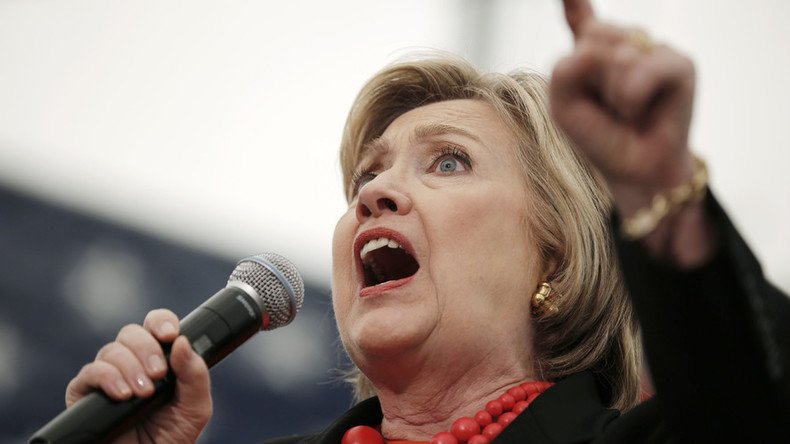 With just hours to go before the final US presidential debate, Hillary Clinton's camp has again decided to play the Russian card. But this time it's not only Moscow that's behind the leak of DNC and Podesta emails – somehow RT is also involved, Clinton's team claims.
Clinton communications director Jennifer Palmieri assured the Washington Post that the Democratic candidate is fully focused on preparing to debate with Donald Trump, and is not at all concerned by the emails recently released by WikiLeaks in huge batches on a daily basis.
READ MORE: Latest WikiLeaks #Podesta emails: Black voters, 'backstabbing' & San Bernardino
However, Palmieri didn't miss an opportunity to throw a jab at Moscow.
"This is an effort that's led by the Russians. Intelligence agencies have confirmed that that is designed to hurt our campaign, so we're not spending a lot of our own internal time doing that," Palmieri was cited by the WP as saying on Tuesday.
"I will note that if we needed more evidence that this is an effort that's controlled by the Russians, on more than one occasion Russia Today [RT] has actually posted emails from WikiLeaks even ahead of WikiLeaks," the Clinton campaign communications director said, adding that "it's pretty clear that they're helping."
RT is looking into the possibility of suing the Clinton campaign for spreading false information, following Palmieri's statements.
"It's amazing that 100-percent, distilled lies are being spread by none other than Clinton's communications director. If they know the material so well and believe in nonsense invented by their own media, then some geopolitical decisions just cease to amaze," RT's editor-in-chief, Margarita Simonyan, said.
"I'm going to pass it to the lawyers. Let them see if there are any legal perspectives," she added.
WikiLeaks has been publishing leaked emails from Clinton campaign chair John Podesta in batches in October, with the correspondence, among other embarrassing details, revealing that Clinton made speeches paid by Goldman Sachs bank, supported fracking, worked with mass media for better coverage, and manipulated main rival in the primaries, Bernie Sanders, to support her.
The Clinton Campaign has neither confirmed nor denied the authenticity of the leaked emails, choosing to attack Russia instead.
On October 13, RT really did break the Podesta emails before WikiLeaks, but it had nothing to do with the conspiracies promoted by the Clinton camp.
RT journalists discovered the fresh emails, which are made public at around 9am ET almost daily, on the WikiLeaks site and hurried to release the news.
The announcement by WikiLeaks that the #PodestaEmails6 were now available followed shortly.
Clinton campaign spokesman Brian Fallon was fast to accuse the whistleblowing website of working with Russia to propel Republican nominee Trump to the White House.
WikiLeaks replied that the release was available for everyone willing to look at its website.
Clinton has mentioned Moscow and Vladimir Putin on numerous occasions during the campaign, saying in debates that the Russian president "let loose cyber attackers to hack into [US] government files, to hack into personal files, hack into the Democratic National Committee."
She also accused Trump of being actively supported by the Kremlin and promised to "defend the citizens of this country [the US] and the Russians need to understand that."
Trump said that he had never met Putin and that while he is adamant that positive relations with Russia would be better for America, he is somewhat ambivalent toward the Russian leader.
READ MORE: 'I don't have any feelings one way or the other' - Trump on 'bromance' with Putin
The US recently officially accused Russia of the hacks. However, Washington has at no point presented any proof of Moscow's involvement in hack attacks on US organizations and politicians, including Clinton.
READ MORE: Putin: White House uses Russia scaremongering to manipulate Americans
Putin said the Obama administration is dragging Russia into the US presidential election to manipulate American voters for the benefit of Hillary Clinton, adding that email revelations have nothing to do with Russia's interests.
You can share this story on social media: