'Democracy Now!' journalist pursued by N Dakota prosecutors despite dropping of charges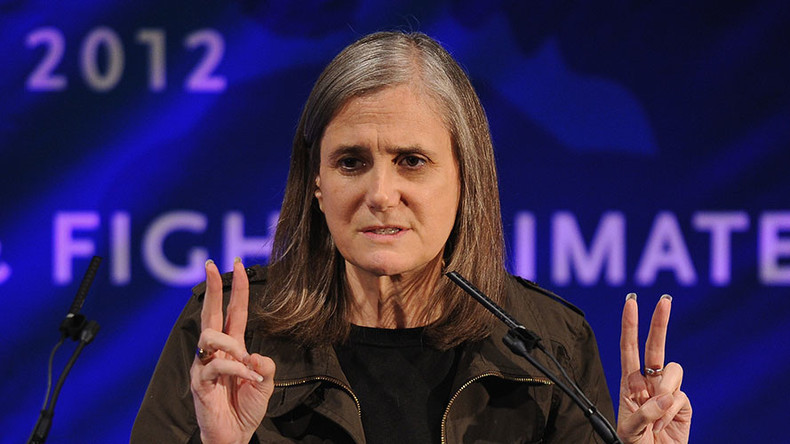 Though trespassing and riot charges against journalist Amy Goodman over her coverage of the Dakota Access Pipeline protests have been dropped, a North Dakota prosecutor has hinted the state will continue to pursue her and wants her unedited footage.
On Monday, a district court judge rejected a riot charge filed against Goodman for her coverage of ongoing protests of the construction of the Dakota Access Pipeline. Goodman, host and executive producer of "Democracy Now!" who has won a Polk Award for her journalism, was originally charged with criminal trespass on September 8 after "Democracy Now!" reported on a violent encounter between protesters, led by the Standing Rock Sioux tribe, and private security guards on September 3.
The rioting charge was filed by McLean County State's Attorney Ladd R. Erickson on October 15, after he dropped criminal trespassing charges. Erickson is assisting the Morton County state's attorney's office in the case.
"I wasn't trespassing," Goodman said Monday from a courthouse in Mandan, North Dakota, in a Facebook Live broadcast. "I wasn't rioting. The 'Democracy Now' team and I were there to report, to document what was happening on the ground. These charges are simply a threat to all journalists around the country: Do not come to North Dakota."
Reacting to the dropped charges, "Democracy Now!" hailed the judge's decision as a "press freedom victory."
Having failed twice to successfully charge Goodman with a crime connected to her coverage of the pipeline protests, Erickson told the New York Times on Monday that the state will continue to pursue criminal charges.
"I believe [the Morton County state's attorney's office] want to keep the investigation open and see if there is any evidence in the unedited and unpublished videos that we could better detail in an affidavit for the judge," he said in an email. "The Democracy Now video that many people have seen doesn't have much evidence value in it."
Erickson said last week that reporting by "Democracy Now!" and Goodman does not deserve First Amendment press protections.
"She's a protester, basically," he told the Bismarck Tribune. "Everything she reported on was from the position of justifying the protest actions."
Reed Brody, an attorney for Goodman, told NYT that "the prosecutor seems to be determined to charge Amy with something," adding that another charge such as disturbing the peace could come next.
"It's hard to see what the State of North Dakota gains by charging a reporter with a crime for doing her work," he said. "If the attempt is to prevent people from talking about the Dakota Access pipeline, it certainly has not worked out for them."
Freedom of the Press Foundation's Trevor Timm says to access any unedited, unaired "Democracy Now!" footage, the state will likely have to subpoena it.
"North Dakota has a strong reporter's shield law that should protect Goodman and Democracy Now from turning it over, but given how much the prosecutors have disregarded the law so far, there's no indication they'll stop now," he wrote.
The $3.78 billon 1,172-mile Dakota Access Pipeline, being developed by the company Energy Transfer Partners, has been the subject of heated protests for months, after Standing Rock Sioux alleged the project would destroy several cultural sites and burial grounds, and claimed it would taint their water supply.
If completed, the pipeline would travel across four states and is expected to carry nearly half-million barrels of crude oil daily from the Bakken oil fields in North Dakota. The pipeline would travel through North and South Dakota, under the Missouri River, through Iowa to an existing pipeline in Illinois.
On Tuesday, authorities in Iowa said a fire that caused damage to construction equipment being used to build the Dakota Access pipeline in Jasper County, Iowa, was likely the work of arsonists.
Goodman is not the only journalist facing a criminal charges of late for covering activists in opposition of fossil fuel pipelines. On October 11, documentary filmmaker Deia Schlosberg was arrested in North Dakota for filming activists who shut down a valve of a tar sands pipeline. Schlosberg was charged with three counts of felony conspiracy and now faces a potential 45 years in prison.
The action Schlosberg was filming was part of a multi-state protest by "Climate Direct Action," which targeted valve stations of five pipelines moving tar-sands oil from Canada into the US, and to show solidarity with ongoing protests led by the Standing Rock Sioux in North Dakota. Eight others were arrested and initially charged with trespassing.
On October 15, Schlosberg released a video thanking her supporters.
"I'll be saying more in the coming days and weeks after I talk to some legal folks, but for now I really wanted to say thank you. I feel amazingly supported and that gives me hope that this is going to work out and we can move the focus back to where I think it should be, the original story that I was trying to cover."
You can share this story on social media: