Filmmaker charged with 3 felony counts for documenting tar sands pipeline protest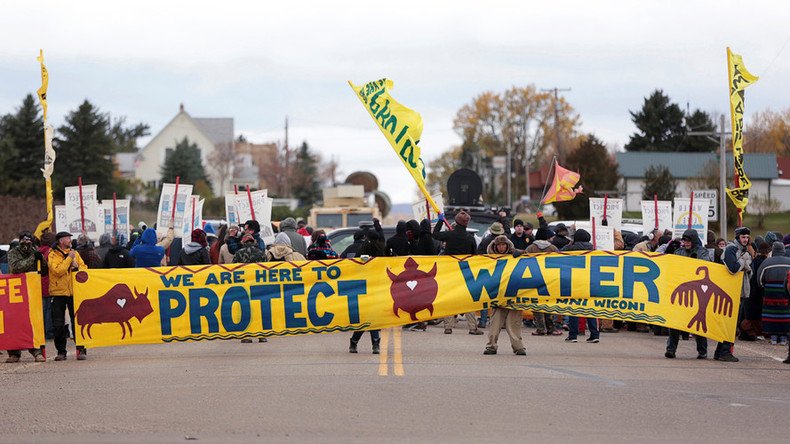 A filmmaker has been charged with three felonies after being arrested by police in North Dakota for filming activists shutting down the valve of a tar sands pipeline owned by TransCanada Keystone. She was one of nine arrested.
Deia Schlosberg was charged with three felonies, two Class A, and one Class C on Thursday. The charges included conspiracy to theft of property, conspiracy to theft of services and conspiracy to tampering with or damaging a public service. The charges can be combined in a 45-year maximum sentence.
Schlosberg, a producer for Josh Fox, was arrested and her footage confiscated on Tuesday after filming protesters breaking into a valve station owned by TransCanada in Walhalla, North Dakota. The action was part of a multi-state protest by "Climate Direct Action" which vandalized five pipeline valve stations in multiple states on Tuesday to protest the movement of tar-sands oil from Canada into the US, and to show solidarity with ongoing protests in North Dakota. Eight others were arrested and initially charged with trespassing.
Schlosberg started being held for 48 hours as of Wednesday and had not been allowed to speak to an attorney.
Filmmaker of Gasland, Fox said Schlosberg's arrest, along with that of actress Shailene Woodley at a demonstration against the Dakota Access Pipeline near St. Anthony, North Dakota, was an attack on the free press.
Schlosberg and two of the activists, Michael Foster and Samuel Jessup were charged with a total of 14 criminal charges for interfering with the emergency valves of TransCanada's Keystone Pipeline. Foster alone faces eight criminal charges, with the most serious being theft of property, theft of services and two counts of criminal conspiracy, all Class A felony crimes.
Court records said Foster used bolt cutters to break into a locked facility and manually closed a pipeline valve, stopping the flow of oil for more than seven hours and costing the company $50,000, according to Inforum.
Jessup and Schlosberg are each charged with three counts of criminal conspiracy.
Prosecutors in Minnesota filed felony charges against two members of the same activist group for similarly tampering with two Enbridge pipelines.
Ken Ward turned the valve on Kinder-Morgan's TransMountain pipeline in Washington state. He said he was charged with sabotage, and the bail are being set in in the thousands of dollars.
"Watching as the same, high amounts are being imposed for bail in our varied locations - $75,000 for valve turners, $50,000 for supporters and $25,000 or less for independent media - it's clear that we are being met with a coordinated, severe, governmental response," Ken Ward said a released statement.
"The simple, naive part of me wonders how can this be? I am charged with sabotage, among other things, for trying to stop one of the very worst sources of carbon emissions, which are sabotaging the conditions that make civilization possible and on which the security of the nation depends. Why is the government using laws designed to squelch effective action in the face of climate cataclysm? Who, really, are the saboteurs here?"
The valve stations are responsible for 15 percent of the oil consumed in the United States every day.
Companies operating the pipelines shut down their lines for between five and seven hours as a safety measure before restarting them, according to Reuters estimates and company representatives.
Schlosberg is the producer of the 2016 film "How to Let Go of the World and Love All the Things Climate Can't Change", the latest film by 'Gasland' director Josh Fox.

"Whatever you think about the protests, you cannot believe that a person who is simply reporting – freedom of the press, the First Amendment – shooting the protests should be arrested and their footage confiscated. This is an outrage," Josh Fox said in a videotape posted on his Facebook page.
You can share this story on social media: