Riot charges dropped against Amy Goodman for reporting on Dakota Access Pipeline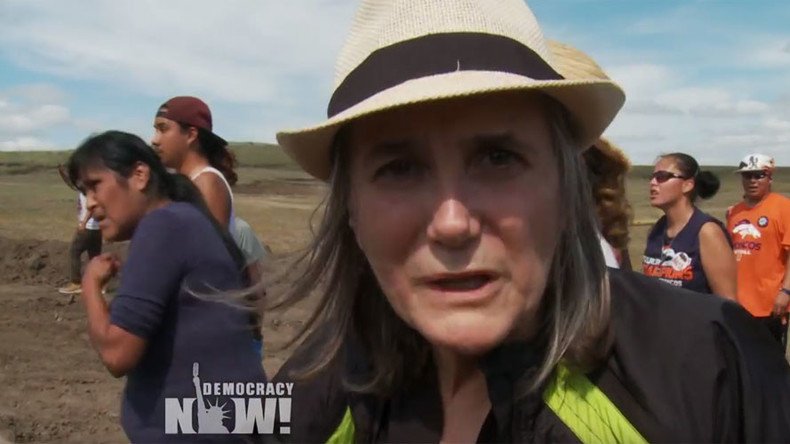 A Democracy Now journalist has been charged with rioting after reporting on a protest against the Dakota Access Pipeline, with a prosecutor claiming she was "basically" acting like a protester. The case against her was later dismissed, her lawyer said.
Journalist Amy Goodman reported from the scene of a protest against the controversial pipeline in early September. Footage from the scene showed members of the Standing Rock Sioux Tribe being met with violence by security guards and their canines during the demonstration.
A spokesperson for the tribe told AP that at least six people were bitten by the dogs, including a young child, and at least 30 people were pepper-sprayed.
But although Goodman says she did not take part in the clashes, opting instead to report on the situation and explain what was taking place, she is now being charged with rioting.
The rioting charge was filed by North Dakota State Attorney Ladd R. Erickson on Friday, after he dropped criminal trespassing charges. District Judge John Grinsteiner will decide on Monday whether probable cause exists for the charge.
If the charge is approved, Goodman – who has traveled to North Dakota to address the issue – will appear at Morton County court at 1:30pm local time on Monday.
"I came back to North Dakota to fight a trespass charge. They saw that they could never make that charge stick, so now they want to charge me with rioting," Goodman said, as quoted by Democracy Now.
"I wasn't trespassing, I wasn't engaging in a riot, I was doing my job as a journalist by covering a violent attack on Native American protesters," she added.
In an email to the reporter's attorney, Tom Dickson, Erickson alleged that Goodman was "not acting as a journalist" when covering the story. He told the Bismarck Tribune that she was "a protester, basically. Everything she reported on was from the position of justifying the protest actions."
Dickson has accused the government of "overplaying its hand" in the matter.
If found guilty, Goodman could face jail time and a fine.
Meanwhile, a separate filmmaker was charged with three felonies last week, for documenting a protest against the pipeline. Those charges include conspiracy to theft of property, conspiracy to theft of services, and conspiracy to tampering with or damaging a public service. The charges can be combined in a 45-year maximum sentence. Eight others were arrested alongside the filmmaker.
Prior to those arrests, actress Shailene Woodley was also arrested at a demonstration against the pipeline.
The four-state Dakota Access Pipeline has been the subject of heated protests for months, after Native Americans alleged the project would destroy several cultural sites and burial grounds, and claimed it would taint the water supply. Thousands of Native Americans have camped at the site in protest since April.
The charges against Goodman were dropped on Monday afternoon, her lawyer said
You can share this story on social media: