'Military-style' armed police arrest 20+ Dakota Access protesters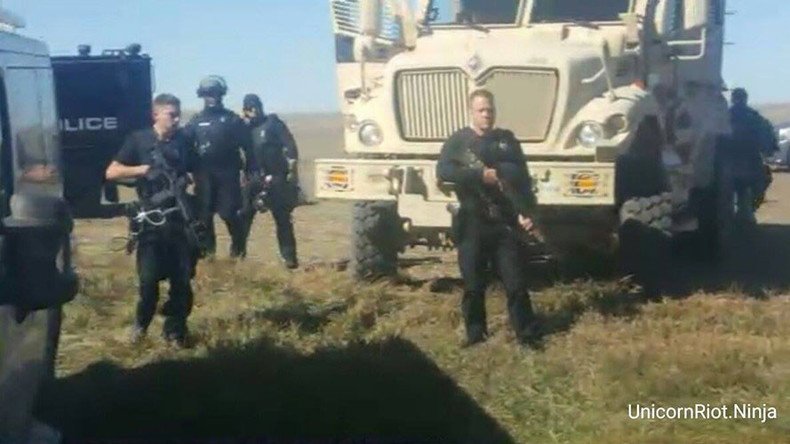 More than 20 people were arrested at a Dakota Access pipeline construction site Wednesday, amid ongoing protests against the four-state $3.7 billion project. North Dakota police reportedly handled the rally with "military-style" equipment and armored vehicles.
Ninety-five people have now been arrested, as dozens of people continue their actions to overturn the pipeline construction.
Law enforcement officials claim the arrests were made for criminal trespass on private property, possession of stolen property and resisting arrest.
However, one of the participants, Thomas H. Joseph II, said on Facebook that police hit them as they "gathered in prayer unarmed, prayed, sang songs, and attempted to leave."
"We had a powerful moment of prayer that you can see in my older video posted minutes before the video when the police blocked us in," he wrote. In another post, he added, "No threats, No vandalism, No violence was taken on our part."
Sacred Stone Camp, which has been housing dozens of demonstrators since May also posted pictures from the scene on Facebook.
"ND authorities deploy armed personnel with shotguns and assault rifles, military vehicles, and aerial spray on peaceful Water Protectors gathered in prayer," the camp members wrote.
The Morton County Sheriff's Office confirmed in a statement that police responded with armored vehicles, specialized equipment and "less lethal ammunition using bean-bag rounds," but denied reports of any spray being used. Investigators said it was a crop duster spraying a field.
Morton County Sheriff Kyle Kirchmeier seemed to downplay the police response, saying that one officer raised his weapon after a protester on a horseback charged at him.
"A charging horse combined with totality of the situation presented an imminent threat to the officer," he said.
READ MORE: 'Desecration': Protest against bulldozing of Native American burial grounds for Dakota pipeline

Calling themselves "water protectors," the protesters say the pipeline puts the Missouri River at risk of an oil spill. The river is the only water supply for the local Standing Rock Sioux Tribe. Its members also insist that the 1,172-mile project would threaten its ancestral cultural resources, since it would run less than half a mile away from their reservation.
You can share this story on social media: