Obama interrupted multiple times at Clinton campaign rally in North Carolina (VIDEO)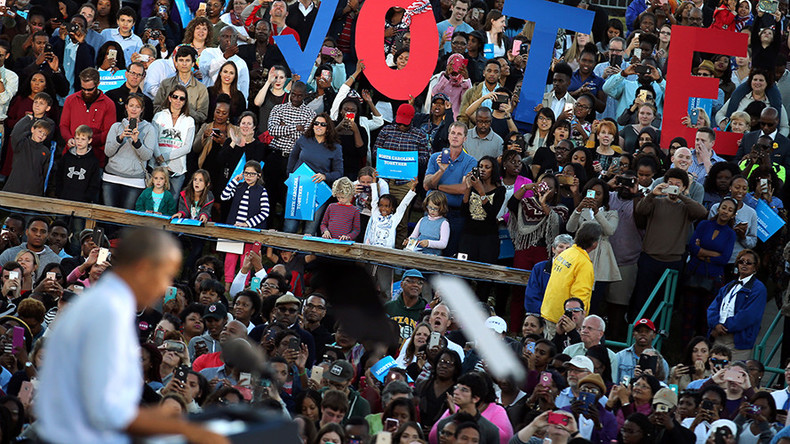 Protesters disrupted President Barack Obama on three occasions as he campaigned for Hillary Clinton during a rally in Greensboro, North Carolina. A man and woman wearing "Bill Clinton rapist" T-shirts shut down the event for nearly two minutes.
"Bill Clinton's a rapist!" a man's voice was heard bellowing as President Obama stirred up thousands of Clinton supporters in Greensboro, North Carolina on Tuesday.
A woman joined in with the man. Both wore white T-shirts bearing the handwritten message, "Bill Clinton rapist." The protesters appeared in front of the crowd with their backs turned to Obama. It took nearly two minutes before the rally recovered.
Obama laughed it off, saying "Oh no!" then calling the demonstration a symbol of US democracy's free discourse. He also joked, "they were auditioning for a reality show."
"Hillary! Hillary!" the audience chanted as the protesters were whisked away.
Jon Camp of local ABC News station WTVD tweeted an image capturing the protesters, Obama and the crowd.
"Folks will just do all kinds of stuff," Obama said. "Now, where was I?"
Obama had been speaking jovially with the crowd already about getting his security deposit back once his family leaves the White House in January 2017. As he built up to Clinton's candidacy, praising her for "bringing Osama bin Laden to justice" and stopping Iran's "nuclear weapons program," a second, less visible and less audible, interruption broke out.
"Here's the deal," Obama said, addressing protesters further back in the crowd. "Try to get your own rally."
The ralliers roared for the president. But they did not deter a third interruption, which came minutes later.
Another man walked up to the front of the crowd carrying a Hillary Clinton campaign sign, only to rip it in half and yell at the crowd. Looking like a scene from Wrestlemania, the protester then spread out his arms in a challenging gesture to Obama, and that's when Secret Service escorted him away promptly.
Brandon Wall of BuzzFeed shared screen shots of the third protest.
"You know what, this is our democracy at work," Obama responded. "This is great!"
Obama knew many in the crowd would be familiar with his next line, because as he told them, "don't boo," he hesitated for them to scream back, "vote!"