Southeastern US braces for Cat. 4 Hurricane Matthew (VIDEO)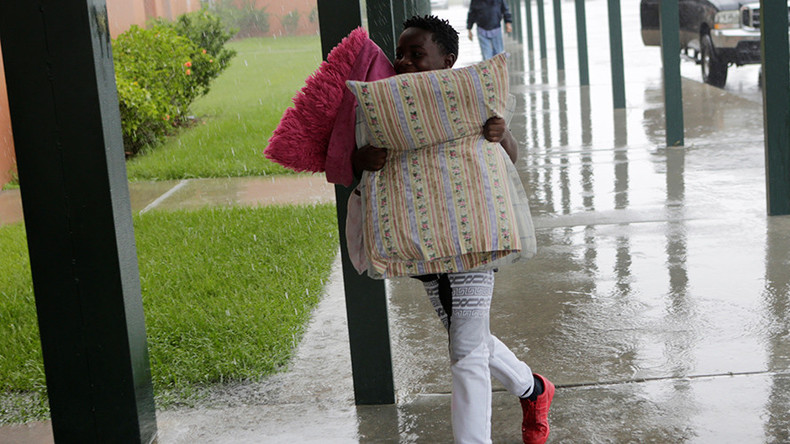 With winds of 140 miles per hour, Hurricane Matthew is bearing down on the southeastern US as a category 4 storm. At least one person has been killed by police during the evacuation of more than 2 million people from Florida, Georgia and South Carolina.
READ MORE: Worst disaster in Haiti since 2010 earthquake: Storm leaves 280 dead as it approaches US (PHOTOS)

Evacuation orders have been issued and states of emergency declared as more than 11 million people face the threat of Hurricane Matthew. The storm has already killed more than 113 people in the Caribbean. The hurricane is expected to slam into Florida on Thursday evening, bringing up to 12 inches (30cm) of rain with a storm surge between 5 and 9 feet (1.5-2.7 m) above ground.
Late Thursday evening as windspeeds picked up, the Orange County Emergency Management Center was operating at "Level 1" and forwarding on Orange County Mayor Teresa Jacobs' ordered curfew, which runs from 10:00pm Thursday to 7:00am Saturday. Even after the storm ends, trees and power lines fallen in the roads will remain a hazard, officials warned.
WOFL chief meteorologist Glenn Richards reported that the greatest concentration of the hurricane is now projected to be farther to the east, "tweaking" down the wind speeds onshore just below hurricane force to 75-80mph. He called that "fantastic news," but "not etched in stone."
Florida has opened 58 emergency shelters, with another 84 expected to open by the end of Thursday. The state has ordered the evacuation of 1.5 million residents, and hotels and companies such as AirBnB are opening up rooms for evacuees for free, officials said.
"Don't take a chance. Time is running out," Governor Rick Scott (R-Florida) said during a press conference. "There are no excuses. You need to leave."
"Evacuate, evacuate, evacuate," he implored. "Are you willing to take a chance to risk your life?"
Orange County Fire Rescue has tweeted that it "canvased [sic] more than 3500 mobile homes in east [Orange County]," totaling 54 communities.
The evacuation has not proceeded without tragedy and loss of life. On Wednesday, police in Moncks Corner, South Carolina shot and killed Lucas M. Felkel, 35, after he drove up to a checkpoint, knocked down some traffic cones and sped off. Police pursued him, and caught up to him a few miles away. At that point, Felkel pointed a gun at the officers and began shooting, the Associated Press reported.
Police fired back, wounding Felkel. He was taken to a nearby hospital where he died. No officers were wounded, but Berkeley County Sheriff Duane Lewis says that four of his deputies have been placed on administrative leave while the State Law Enforcement Division investigates.
In Brevard County along Florida's Space Coast, officials are expecting the overall storm event to last 22 to 26 hours. NASA and SpaceX are working to secure their capsules and rockets at Kennedy Space Center, which closed Thursday and is expected to remain so on Friday. A 116-person crew will ride out the storm on duty there.
"Our entire county is really in a dangerous, life-threatening situation starting here in the next couple of hours," Don Walker, communications director for Brevard County, told RT America on Thursday afternoon.
"[People] need to think not only for their own safety but for the safety of their families, and they need to heed the warnings to evacuate," he added. "The shelters are open, there's room in the shelters, I'm sure their loved ones would love to have them stay there, just to know that they'll be safe. So, you know, they need to seek higher ground as soon as possible, if they haven't done so already."
Evacuation orders are also in place further inland, not just along the coastline.
"Strong winds will occur well inland from the coast, and residents of mobile homes under evacuation orders are urged to heed those orders," the National Hurricane Center said in a statement.
In Orlando, which is about an hour inland, officials at Walt Disney World, Universal Studios and Seaworld announced that they'll be shutting down their theme parks until the storm passes.
Matthew is expected to make landfall as a either a category 4 (sustained winds of 131-155 mph or 201-249 km/h) or category 5 hurricane (sustained winds of 156 mph/251 km/h or higher) on the Saffir-Simpson wind scale. The only time a category 4 hurricane made landfall near northeast Florida was in 1898, when a storm came ashore south of St. Simons Island, Georgia, the Weather Channel reported.
"If Matthew directly impacts Florida, there will be massive destruction that we haven't seen in years," Scott said.
On Facebook, people who had survived previous deadly hurricanes such as Sandy (2012), Katrina (2005) and Andrew (1992) offered advice for those in Matthew's path. They suggested filling up gas tanks and spare cans well before evacuating, packing important photos and documents in airtight plastic bags or containers, taking pre-damage pictures or videos for insurance purposes, and getting large amounts of cash in small denominations. For people with pets, they recommended taking pictures of the animals before leaving, especially if the animals haven't already been microchipped. They also advised that many hotels that don't normally allow pets will open their doors during emergencies.
For people who are planning on riding out the storm, which many Facebookers advised against, they suggested placing an ax in the attic to cut through the roof in case they need to be rescued by air. They also recommended filling bathtubs with water, freezing old milk jugs and stocking up on propane or gas to grill food as it begins to thaw during the expected long-term power outages.