Hurricane Matthew's terrifying scale captured in amazing ISS video
Published time: 4 Oct, 2016 18:18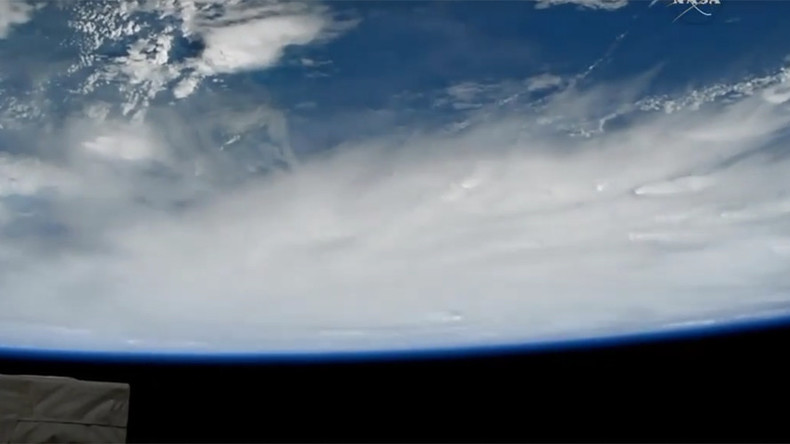 As Hurricane Matthew continues to make its way across the Caribbean, footage taken from the International Space Station reveals the epic scale of the Category 4 hurricane.
The orbital complex captured the hurricane as it flew 250 miles over the storm on Monday. The cameras outside the ISS picked up the massive hurricane as it made its way toward Haiti and Jamaica.
The eye of the storm can be seen in the video as the hurricane's 140 mph winds swept over the Atlantic Ocean. The ISS footage has been speeded up fourfold, which makes for dramatic viewing of the massive hurricane.
Matthew is the strongest hurricane to hit the region since Felix in 2007. It pounded Haiti with 140 mph winds on Tuesday, with the US National Hurricane Center (NHC) reporting the island was "getting everything a major hurricane can throw at them."
One person died when waves hit the town of Port Salut, and two fishermen were reportedly killed at sea.
It is set to move on to Jamaica before making its way to Cuba, the Bahamas and then to the US, where Florida and parts of North Carolina have already declared states of emergency. It will be the first hurricane of its size to hit the US in years.
The "extremely dangerous" storm will bring hurricane-force winds and "life-threatening flash floods and mudslides," according to the National Oceanic and Atmospheric Administration (NOAA).
A dangerous storm surge and "large and destructive waves" could raise water levels as much as 15 feet, NOAA reports.
The US has pledged $400,000 in aid to Jamaica and Haiti. Matthew is expected to remain a strong hurricane until at least Wednesday night.