Hurricane Matthew threat triggers Guantanamo Bay evacuation
Published time: 2 Oct, 2016 12:42
Edited time: 2 Oct, 2016 15:10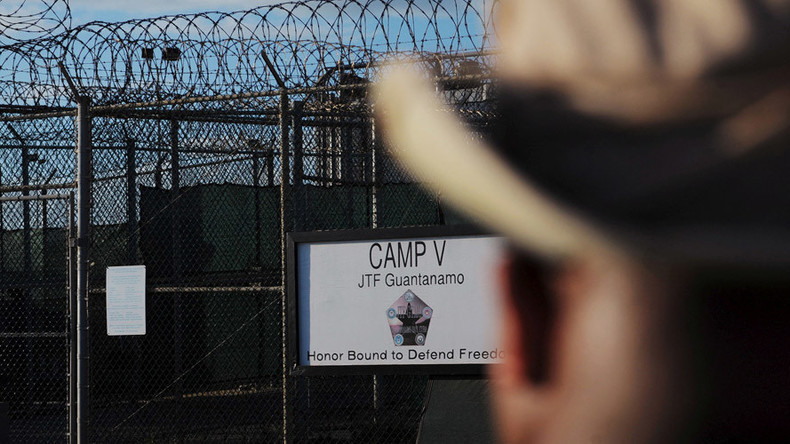 The US Navy will evacuate 700 family members of military staff from Guantanamo Bay ahead of Hurricane Matthew, although no prisoners will be removed from the infamous prison.
In a statement released Saturday, Guantanamo base announced"mandatory evacuation" for all non-essential personnel ahead of the Category 4 hurricane hitting the island.
Base commander and Navy captain David Culpepper told residents of the military base it was necessary to "prepare for the worst-case scenario."
More than 5000 people live on the base, including 61 prisoners still held in Guantanamo detention center. Prisoners will not be evacuated, and captain John Filostrat said preparations were underway, but would not elaborate.
Guantanamo's Camp 7, where alleged al-Qaeda planners of September 11 await death penalty trials, was described as "unsustainable" with drainage and foundation issues in 2014. The Pentagon's Marine Gen. John F. Kelly told Congress at the time that the infrastructure was meant to be temporary and "numerous facilities are showing signs of deterioration and require frequent repair."
Military planes were preparing to collect residents Saturday night, with evacuees bound for Florida.
Those remaining on Guantanamo were advised to take shelter in their homes or designated locations. Hurricane Matthew was briefly classified as Category 5, but was then classed as Category 4, with expected winds of 150 miles per hour. It is expected to be the worst hurricane to hit the region since Felix in 2007.
The evacuation has been explained as a way to ease demand on hurricane shelters and supplies on the base.
Guantanamo Bay Naval Base is located on Guantanamo Bay, Cuba. It is home to the notorious Guantanamo Bay detention camp, where prisoners from the so called War on Terror have been interrogated, allegedly tortured and imprisoned since 2002.
READ MORE: MI5 lawyer to be grilled by MPs over UK's role in Guantanamo 'torture'
Conditions at the Guantanamo detention camp have been accused of being in violation of Geneva Conventions. Hundreds of prisoners have gone on hunger strike there.
The Cuban government has long protested the presence of the US at Guantanamo, claiming the country forced its base on Cuba.
Hurricane Sandy, a Category 2 storm, damaged the base in 2012, knocking out the power at the base and forcing the Pentagon's war crimes tribunal to be called off.