Clinton, Trump face off in 1st presidential debate amid confusion over 'big facts' & 'little facts'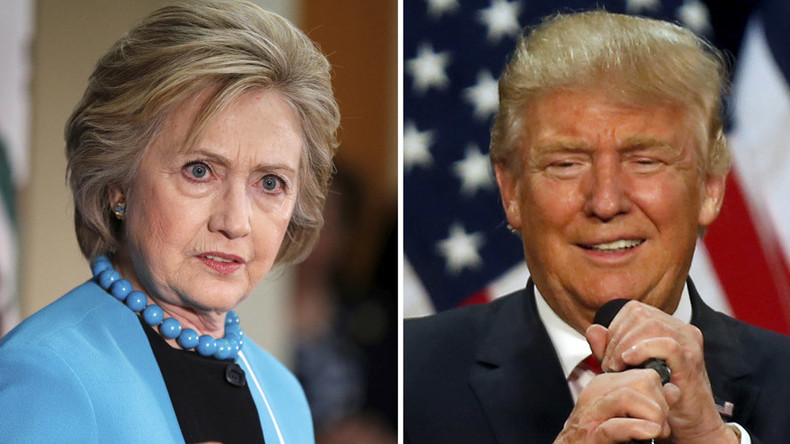 Record numbers are expected to tune in to Monday's presidential debate which will see Donald Trump and Hillary Clinton go head to head for the first time. We may also learn just what the difference is between a "big fact" and a "little fact."
NBC's Lester Holt will be moderating the 90-minute debate at Hofstra University on Long Island. Three overarching themes will be touched on during this time, namely: 'America's Direction,' 'Achieving Prosperity' and 'Securing America.'
Before the debate even gets underway, however, there's already confusion over what the role of Holt and other moderators should be, particularly when it comes to dealing with facts, of all things.
The Trump campaign has been steadfast in their thinking that moderators should not be "virtual fact checkers," which is also in line with the thinking of another presidential debate moderator, Fox News' Chris Wallace, who has said it's not his "job to be a truth squad."
On the other side of the argument, the Clinton campaign says it expects moderators to fact-check Trump as "moderators should play a role in making sure that the audience knows the truth,"according to Clinton spokesperson Jennifer Palmieri.
The organizers of the debate, the Commission on Presidential Debates (CPD) haven't been all too clear either.
"I'm not sure, what is the big fact, and what is a little fact?" Janet Brown, CPD executive director, told CNN's Reliable Sources, adding that moderators shouldn't "start getting into fact-checking" because they're not "the Encyclopaedia Britannica."
While everyone tries to figure out what is and isn't a fact, both the Republican and Democratic nominees have a lot to lose or gain regardless.
As Brett O'Donnell, a communications consultant, told the Washington Post: "You can't really win an election in a debate, but you can lose one.
"The first debate is the most important of all the debates, and it definitely has the most potential to harm," O'Donnell said.
Notable absentees from the debate will be Gary Johnson, the Libertarian nominee, and Jill Stein, the Green Party's choice for president.
Neither Johnston or Stein achieved the support of 15 percent in five selected national opinion polls, a requirement of the Commission on Presidential Debates (CPD), a group almost entirely consisting of Democrat and Republican party leaders, so won't be appearing in this debate. Whether they feature in the following two debates is not yet known.
READ MORE: Supporters plan to 'escort' Stein to first presidential debate, Johnson allies rally to 'let him in'
With a staggering 100 million people expected to tune in to the 9 p.m. (EDT) debate, there's a lot at stake for the two candidates taking part, particularly in light of Sunday's Washington Post-ABC News poll.
It finds that both Clinton and Trump are neck and neck, with the former on 49 percent and Trump on 47 percent, when Johnson and Stein are excluded. The two-point difference falls firmly in the 4.5 percent margin of error.
Over the summer months, there were questions raised as to whether Trump would even bother taking part in the debates, particularly after claiming that they're "rigged" in Clinton's favor.
Short of Trump dropping out at the last minute on Monday, it seems a certainty that he will be appearing alongside his Democratic opponent.
While their respective supporters will be expecting the debate to portray their candidate in the best light, those still unsure of how to vote on November 8 will be given an insight into where the next commander-in-chief stands on both domestic and foreign policy issues.
Clinton is understood to have cleared her schedule over the weekend, except for meeting with Israeli Prime Minister Benjamin Netanyahu on Sunday, and has been "hunkered down" in a New York hotel preparing intensely for the debate, according to NBC News.
Citing unnamed sources, ABC News says Trump's preparation on the other hand has been "slim" and he hasn't participated in any mock debates.
Clinton, who polls predict has most to lose in the debate, will be drawing on her experience in governance as the main reason why she should be the next president of the US.
Her time as secretary of state will be something she will be using to demonstrate her skill set, particularly in terms of foreign policy.
It's also likely Clinton will mention Trump's so-called "bromance" with Russian President Vladimir Putin, an apparent obsession of the mainstream media.
READ MORE: US media, Trump's own campaign freak out about his interview on 'Kremlin RT'
The problem for Clinton, however, is that polls have shown she's seen as being less honest and trustworthy than her Republican rival, while both candidates are seen as generally unfavorable.
The email server scandal hasn't helped endear her to voters either, with documents released by the FBI on Friday shedding further light on her "tech troubles" while in office.
The Democratic candidate will also need to assuage fears surrounding her health after she "overheated" during a 9/11 commemoration event before it was revealed she had been suffering from pneumonia.
READ MORE: Hillary Clinton diagnosed with pneumonia, cancels California campaign trip, 'Ellen' appearance
This doesn't mean it will be a walk in the park for Trump either, as the same polls show he too has a lot of work to do in making himself more appealing to voters.
With no experience in a political role, The Donald will need to show that it's an outsider that's needed in the White House, with Trump presumably drawing on his experience in the business world, particularly when it comes to economic issues.
Trump has received a mixed reaction to his views on immigration in particular, sometimes having to row back on his original viewpoints, particularly in terms of banning all Muslims from entering the US.
He has held strong, however, on his belief that he will build a wall along the Mexican border, for which he says Mexico will pay, although President Enrique Peña Nieto disagrees.
Trump told Fox News last week that Clinton has "got to treat [him] with respect. I'm going to treat her with respect."
It seems though he is trying to rile up his opponent after it was suggested that Gennifer Flowers, one of former president Bill Clinton's past lovers, will attend the debate as Trump's guest.
READ MORE: Bill Clinton's former lover says she'll attend presidential debate as Donald Trump's guest
The issue of Trump's tax affairs is another thorny issue which could be raised during the debate after he decided against releasing his tax returns.
Whatever issues are and aren't raised in Monday's debate, it looks set to be an intriguing showdown that could very well be a turning point in the election.