Supporters plan to 'escort' Stein to first presidential debate, Johnson allies rally to 'let him in'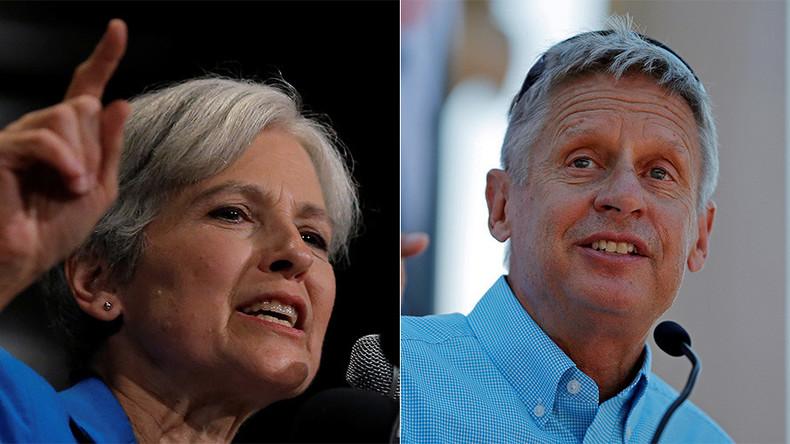 Protests and threats of civil disobedience are popping up ahead of the first face-to-face debate between Donald Trump and Hillary Clinton. Supporters of third party candidates Gary Johnson and Jill Stein are giving the Commission on Presidential Debates the third degree.
Just because the Green Party's Dr. Jill Stein and her vice presidential candidate, Ajamu Baraka, are not invited to be at Hofstra University in New York on Monday, where the first debate between Trump and Clinton will take place, doesn't mean they won't show up anyway.
In a message posted to Dr. Jill Stein's presidential campaign website Wednesday, senior advisor Kevin Zeese mused: "We may decide to have supporters attempt to escort our candidates into the debates."
"This situation may lead to arrest – it is possible but not definite," Zeese added.
"Some people are signing up to risk arrest, others are coming for a no-arrest protest," he said.
It was announced last Friday that Stein and Libertarian Party nominee Gary Johnson would be excluded from the September 26 debate, with the Commission on Presidential Debates finding Stein only garnered a 3.2 percent support average, while Johnson had 8.4 percent, both well below the 15 percent threshold set by the commission, which represents Democrats and Republicans only.
As Stein supporters plan their strategy, Johnson fans took to the streets of Washington, DC. Rallying with at least 100 in attendance, they condemned the Commission on Presidential Debates in front of its offices for keeping out third and fourth options from the televised event anticipated to reach record viewership.
"To have a debate about having a democratic debate in America is absolutely insane," one rally attendee said in a Facebook Live feed posted by Adam Kokesh, a libertarian activist.
Johnson himself made a brief appearance to show his appreciation for the protesters who chanted, "Let him in!"
"This is such an inequity, an unbelievable inequity for anybody that wants to take on the status quo," Johnson said of the Commission, before turning to his ecstatic crowd. "Thank you very, very, very much!"
Last month, a Quinnipiac poll showed 62 percent of respondents in favor of including Johnson in the debates, while 42 percent said the same of Stein.
You can share this story on social media: