US media, Trump's own campaign freak out about his interview on 'Kremlin RT'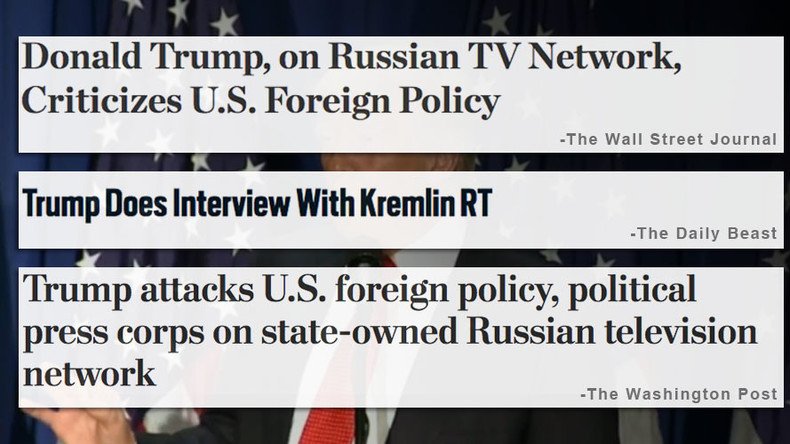 Republican president candidate Donald Trump's interview with Larry King, which aired on RT America Thursday night, is fueling the flames of growing US propaganda against Russia, even within his own campaign.
Not only did the US media turn the conversation into another chance to advance their conspiracy theories, but Trump's own campaign distanced itself from the Russian news channel following the backlash.
His press secretary Hope Hicks said in a statement that Trump "recorded a short interview with Larry King for his podcast as a favor to Mr. King. What Larry King does with the interview content is up to him. We have nothing to do with it."
The Washington Post, owned by Amazon CEO and Trump critic Jeff Bezos, waited until the fifth paragraph before getting into any detail about what was discussed in the interview, which included the GOP nominee's indictment of the "dishonesty of the media."
READ MORE: Iraq, Hillary and baseball: Donald Trump talks to Larry King (RT EXCLUSIVE)
Like most US mainstream media outlets, the Post instead concentrated on the fact that the interview was with Russia Today, "a state-owned Russian television network."
"Trump Does Interview with Kremlin RT" was the headline of an article by the Daily Beast, painting the picture of Trump flying to Moscow and sitting down in Vladimir Putin's official residence for his interview.
The Daily Beast is owned by IAC, which pays Chelsea Clinton, the daughter of Trump's Democratic opponent, $50,000 per year plus stock options to be on its board of directors.
The Wall Street Journal, which is owned by another Trump critic, Rupert Murdoch, described RT as the "Kremlin's propaganda tool" and "a television network controlled by the Russian government," again sidelining any mention of what was discussed until later in the story.
Members of Trump's own party have expressed concern at his Russian connections, including the billionaire's praise for Vladimir Putin, when he described him as a better leader than President Barack Obama.
GOP Senator Lindsey Graham, who attended the Bilderberg conference as part of the pro-Clinton "Stop Trump" delegation, slammed the remarks by his party's candidate about the Russian leader, saying they "disturb me greatly."
READ MORE: Meet the Clinton insiders who attended Bilderberg 2016
House Speaker Paul Ryan would not condemn Trump's remarks, but did tell reporters that he believed Putin to be an "aggressor who does not share our interests."
Republican vice presidential nominee Mike Pence echoed Trump's opinion of Putin, telling CNN on Thursday, "I think it's inarguable that Vladimir Putin has been a stronger leader in his country than Barack Obama has been in this country. And that's going to change the day that Donald Trump becomes president."

On social media, the content of the interview, even Trump's mysterious dodging of the question on Mexican immigration, was also overshadowed by the 800lb Russian bear in the room, with many amazed that an international news organization is covering international news.
WATCH MORE:
You can share this story on social media: