Iraq, Hillary and baseball: Donald Trump talks to Larry King (RT EXCLUSIVE)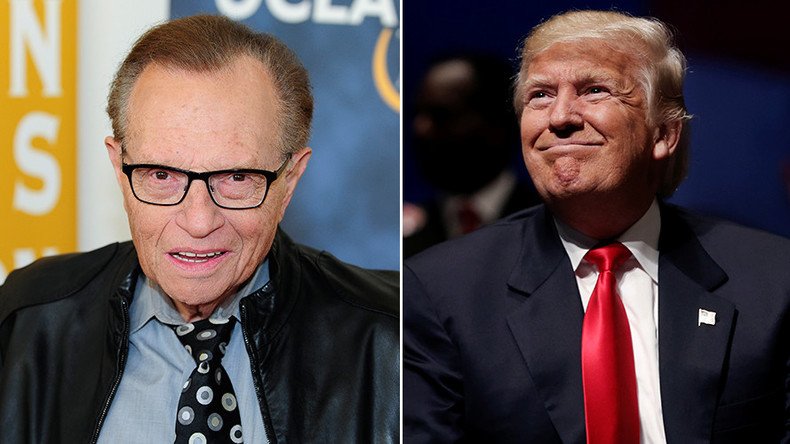 Republican presidential nominee Donald Trump tells RT's Larry King that he doesn't dislike Hillary Clinton, but that she's not the person to make America great again – and that their televised duel Wednesday was more fun than baseball.
This is Trump's first appearance on Politicking since October 2013, when he first hinted at running for president. This time, the billionaire businessman discusses the current election, the hacking of the Democratic National Committee, his comments about the Iraq War, and Wednesday's showdown with Clinton at a veterans' forum.
Mainstream media
Opening up the interview, King asked Trump: "What surprised you the most about running for office?"
Trump pointed to the media's "tremendous dishonesty."
"I mean, they'll take a statement that you make, which is perfect," Trump said, "and they'll cut it up and chop it up and shorten it or lengthen it, or do something with it, then all of a sudden, it doesn't look like as good as it did when you actually said it."
Iraq
On the issue of defeating the Islamic State in Iraq, Trump slammed Clinton and President Barack Obama for their role in pulling US troops out of Iraq in 2013.
King then interjected: "The timetable was arranged by Bush for the leaving."
"Well, you know what, Larry," Trump countered, "I'll tell you what, let's look to the future."
King kept on the point, however, offering Trump the opportunity to criticize the Bush administration as well as Obama and Clinton.
"It's a war we shouldn't have been in, number one," Trump reiterated, "and it's a war that when we got out, we got out the wrong way. That's Obama."
Hillary Clinton
Asked about Clinton, Trump told King, "The bottom line is, Larry, she doesn't have what it takes."
That, Trump clarified, did not necessarily mean he did not like her as a person.
"No, it's not about liking or disliking," the Republican nominee said. "I mean, I wish she did a phenomenal job, and we wouldn't have all these problems."
"I wouldn't be running," Trump continued. "I'd be having dinner with you some place maybe."
Campaigning
King then asked Trump whether or not he was looking forward to the upcoming debates against Clinton.
"Nothing in life is easy," Trump answered. "It's not going to be easy, but it is something I look forward to, absolutely."
The Republican candidate shrugged off speculation that Russia may be trying to influence the 2016 US election.

"It's probably unlikely," he told King. "Maybe the Democrats are putting that out, who knows?"
"I just want to make sure that the election is 100 percent fair," Trump said.
Mexican immigration
King's final question was on immigration, specifically on Mexican immigration.
"Let's get something clear, because I've known you a long time. What are your feelings about Mexican immigrants? What in your gut do you feel about this?" King asked.
But Trump never answered, seemingly dropping off the line, despite King reassuring his audience that the phone connection was not lost.
You can share this story on social media: