Assange slams Clinton for 'Russian hysteria' & US media for politicized election coverage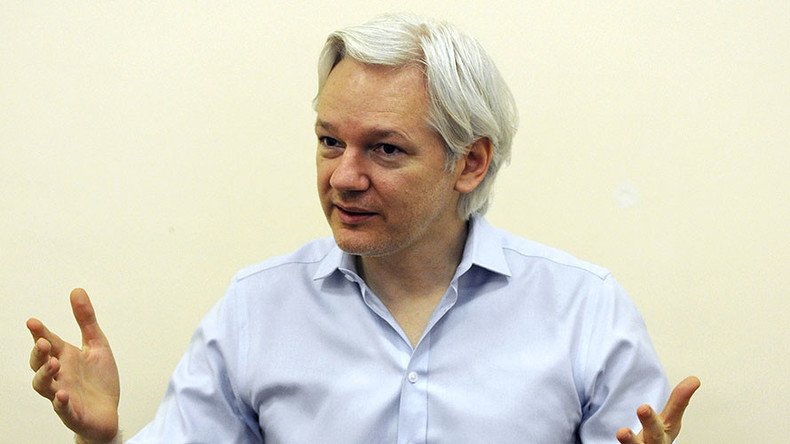 WikiLeaks founder Julian Assange has accused Democratic presidential candidate Hillary Clinton of creating "hysteria about Russia," while criticizing the US media for being too politicized in its presidential election coverage.
Speaking to Fox News via a video-link from the Ecuadorian embassy in London, Assange accused Clinton of engendering a "kind of neo-McCarthyist hysteria," referring to Joe McCarthy, an anti-communist US Senator in the 1950s.
"She has palled up with the neo-cons responsible for the Iraq war and she has grabbed onto a kind of neo-McCarthy hysteria about Russia and is using this to demonize the Trump campaign," Assange told Fox News.
Clinton went on the attack against Trump again at her latest rally in Reno, Nevada on Thursday, when she accused the Republican presidential candidate of having ties with Russia.
She accused the property tycoon of having links with Russia and Vladimir Putin, who she referred to as the "grand godfather of this global brand of extreme nationalism."
"Trump himself heaps praise on Putin and embraces pro-Russian policies," Clinton said.
Assange said that, while he wouldn't be backing Trump in November's election, neither the billionaire nor his campaign team were "Russian agents."
"The Trump campaign has all sorts of things wrong with it, but as far as we can see, being Russian agents is not one of them," the WikiLeaks founder pointed out.
Around 20,000 DNC emails were made public by WikiLeaks on July 22, some of which revealed a close working relationship between the party and some mainstream media figures, as well as collusion between the Democratic Party and the Hillary Clinton campaign to sideline her challenger Bernie Sanders in the primary race for the presidential nomination.
"I would like to believe that no media organization in the United States would not have published the DNC emails, but I don't think that is true actually," Assange said. "I don't think MSNBC would have published them and I don't think the New York Times would have published most of them.
"I think that is sad, and there's incredible politicization in this election of the media. And it is a bit concerning," he said.
Clinton and the US media have alleged that Russia was behind the DNC hack, despite failing to provide any actual evidence, while the Obama administration has never publicly blamed the Russian government for that attack.
When asked why he had not published any incriminating links about Trump, Assange said: "It is really hard for us to release anything worse than what comes out of Donald Trump's mouth… It is part of his charismatic appeal that he speaks off the cuff."
Assange has been living at the Ecuadorian Embassy since June of 2012, when he was granted political asylum by the government of Ecuador.
The WikiLeaks founder believes if he is deported to Sweden, he will then be sent to America to face espionage charges in for his role in publishing sensitive classified information.
You can share this story on social media: