ISIS may have used chemical weapons on US and Iraqi troops in Iraq - report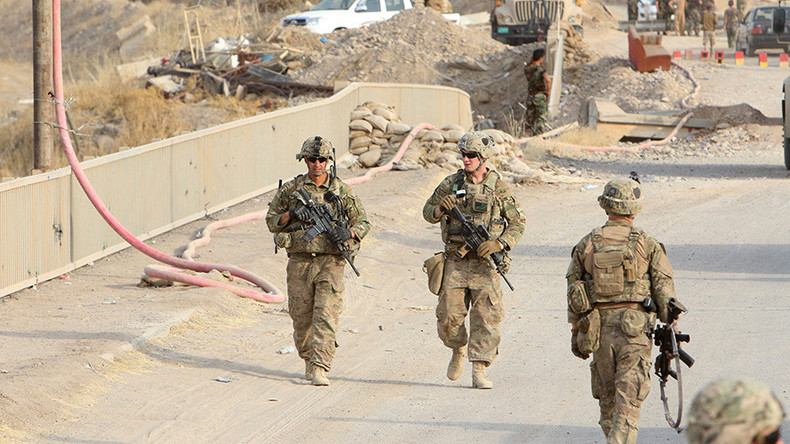 A shell with chemical agents may have landed on an airbase in northern Iraq where both local and US troops were located, CNN reported, citing its sources.
The outlet says that no US soldiers were hurt or showed symptoms of mustard gas poisoning in Tuesday's attack on the Qayyara airbase.
Their sources said the agent had "low purity" and was "poorly weaponized," with an another official calling the shell "ineffective."
Troops went to inspect the shell after it landed on the base and two field tests were conducted after they noticed a suspect substance. The first test was positive, but a second test was negative.
The military base is being used in preparation for an attack to retake Mosul from Islamic State militias.
Earlier this month, the Pentagon reported American warplanes bombed a complex of buildings near the northern city of Mosul that Islamic State militants had converted from pharmaceutical manufacturing to chemical weapons production.
Air Force Lt. Gen. Jeffrey Harrigian told reporters on at the Pentagon that the target was an Islamic State headquarters also used to produce lethal chemicals, possibly including chlorine and mustard gas. According to AP, he provided no details about the chemical weapons production.
In late August, Iraqi forces retook a town 45 miles south of Mosul, the second largest city in Iraq. A string of towns south and southeast of Mosul have also been recaptured as part of the operation to retake Mosul from the Islamic State fighters.
The retake of Mosul is said likely to occur sometime in the next two to three months, but Pentagon officials want governance and humanitarian resources in place first.
Iraqi Prime Minister Haider al-Abadi told reporters earlier this month there are an estimated 3,000 to 4,500 IS militants in Mosul. The number of US troops in Iraq has been increasing in recent weeks, with a total now of 4,460. President Barack Obama has authorized a cap of 4,647.