Racial wage gap largest in 36 years, black men make 31% less than white counterparts - report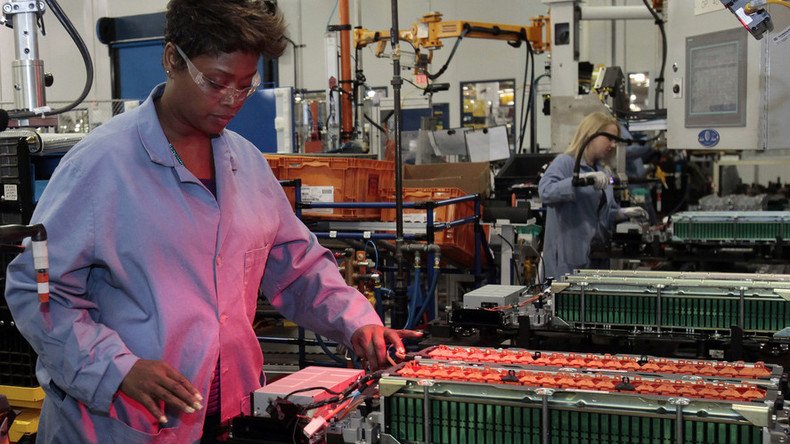 The wage gap between black and white workers in the US has increased significantly since 1979, all while productivity has gone up by nearly 63 percent overall, according to a new report.
Racial wage discrimination, racial disparities in "unobserved or unmeasured skills," overall rising unemployment, weakened labor unions, and insignificant minimum-wage increases have led to a widening of the black-white wage gap over the last 30 years, according to the Economic Policy Institute (EPI).
In 2015, black men made 22 percent less, and black women made 34.2 percent less, in average hourly wages compared to white men with the same education, work experience, region of residence, and metro status, the EPI found, while black women made 11.7 percent less than white women with the same characteristics. In 1979, black men and women who shared the same characteristics as their white peers made 16.9 percent less and 4.5 percent less, respectively.
Overall average hourly wage gaps have widened as well. Black men's average hourly wages had fallen to 31 percent lower than those of white men by 2015, compared to 22.2 percent lower in 1979. Black women's average hourly wages had decreased to 19 percent lower than white women in 2015, as opposed to 6 percent lower in 1979.
The EPI began its analysis with 1979 wage data given that's when US wage growth began to diverge from productivity growth.
"People should be troubled and really question why we would observe this pattern through 2015," said Valerie Wilson, director of EPI's Program on Race, Ethnicity and the Economy and co-author of the report, according to the Huffington Post. "Is the American dream really obtainable ― equally obtainable for all people?"
Though the racial wage gap has grown over the last 36 years, it has not increased every single year since 1979. From 1996 to 2000, the adjusted black-white wage gap fell from 23 percent to 20 percent for men and 10 percent to 7 percent for women. Sustained decreases in the adjusted wage gap have not occurred since 2000.
Wage-growth inequality is also stark among the top 5 percent of income recipients and everyone else, the report says. Since 1979, wages have been near-stagnant for most American workers compared with overall rising productivity while the top 5 percent have seen more increases in wage growth as productivity has risen. This also impacts black-white disparities.
"One of the reasons that the average black-white wage gap has continued to expand is the fact that very few African Americans earn wages that place them among the top 5 percent of all wage earners, where most growth has been concentrated," EPI reported.
"Only 3 percent of all chief executives are African American, and a disproportionate number of them are employed in the public or private nonprofit sectors, where salaries are lower and more likely to be capped than they are in the private for-profit sector."
Younger black women, or those with 10 years of experience or less, have lost the most ground compared to their white peers since 2000. This category of black women earned 4.1 percent less than young white women in 2000; in 2015, that gap has grown to 10.8 percent less.
The adjusted male black-white wage gap has also increased based on experience and education levels. In 1979, the new-entrant wage gap was 11.2 percent, compared to 18.7 percent in 2015. Experienced black men, meanwhile, had a 19.5 percent disadvantage in 1979, then a 23.5 percent gap in 2015.
Black men have been particularly disadvantaged by declining unionization in the US. Since 1983, when data on union membership by race became available, the black-white wage gap has increased by 1.6 percent among male entrants and 3 percent among experienced male workers. One-fourth to one-fifth of this growth can be attributed to unionization decline, EPI said, regardless of experience.
"The fingerprints of several policy decisions and business practices, including eroded labor standards, weakened labor market institutions, and excessive executive pay growth, can be found in the history of wage growth in the past generation," EPI wrote in the report.
"The disconnect between wage and productivity growth means that the majority of workers have reaped few of the economic rewards they helped to produce over the last 36 years because most of the benefits have gone to those at the very top of the wage scale."
You can share this story on social media: