Working mothers in the US still face greater poverty and difficulties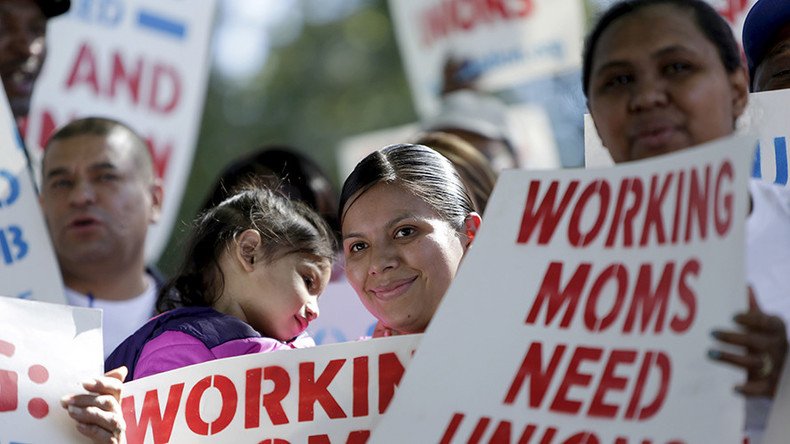 Mother's Day is a special time to show the women in your life how much you value them. However, based on the findings of recent research, some working mothers in certain states may deserve extra appreciation – and not just on one day.
WalletHub has released a study that looks at several hot button issues associated with gender equality: day care systems, child care costs, the gender pay gap, and female executive-to-male executive ratio. The results were not great. For moms in Nevada, Alabama, South Carolina, Louisiana, and Alaska – well, be sure to show them some extra love on Sunday.
Nearly 75 percent of single mothers are members of the workforce, according to a 2014 US Department of Labor survey. In addition, women represent nearly half of US labor, according to the Bureau of Labor Statistics. Yet for many women, balancing work and family can be difficult – particularly when parental leave policies, cost-effective day care, and wage gaps vary from state to state.
For example, Idaho restructured its day care regulations in 2011 in order to ease the requirements for running day care centers. Even at that time, Idaho ranked dead last for day care oversight and regulation, the Spokesman-Review reported. However, even getting that regulation passed was difficult due to socially conservative opposition in the Idaho House
Some legislators rejected it on the belief that mothers should stay at home with their children, such as Idaho Representative Steven Thayn (R-Emmett), who said, "Being separate from your mother there's reason to believe this could be harmful," and Representative Tom Loertscher (R-Iona), who called the bill "gut-wrenching," while asking, "What can we do to keep mom at home?"
The 2007 version of the bill was initially shot down, but would go on to pass in 2011.
For women in Alabama, professional opportunities may be scarce. The Southern Rural Black Women's Initiative found that 10.6 percent of women in Alabama live in poverty with numbers as high as 56 percent in rural counties, such as Lowndes, despite an unemployment rate of only 15.4 percent in the same county.
For single mothers in Alabama, the situation is even more dire. Nearly half of single mothers in Alabama live in poverty, with the rate reaching 68 percent in Conecuh County.
Kentucky had the highest wage gap between men and women – an increasingly hot topic. The National Partnership for Women and Families found that the incomes of 40 percent of the 224,996 households headed by women in Kentucky fell below the poverty line, and women working full-time receive an average of $32,157 a year, compared to an average of $42,321 earned by their male counterparts.
Despite the grim reality faced by working mothers in the US, there are signs that the work-family life balance could be becoming more manageable. As of April of 2016, California, New Jersey, Rhode Island, Washington, and New York had all signed state paid family leave insurance laws. They have yet to be implemented in Washington, however, due to financial reasons.
You can share this story on social media: